IRVING, Texas (TheBlaze/AP) -- U.S. Attorney General Loretta Lynch says the Department of Justice is investigating the brief arrest of a Muslim teenager who brought a homemade clock to his suburban Dallas high school.
Lynch confirmed Thursday night during an interview with Muslim Advocates president Farhana Kher that the department was investigating Ahmed Mohamed's arrest.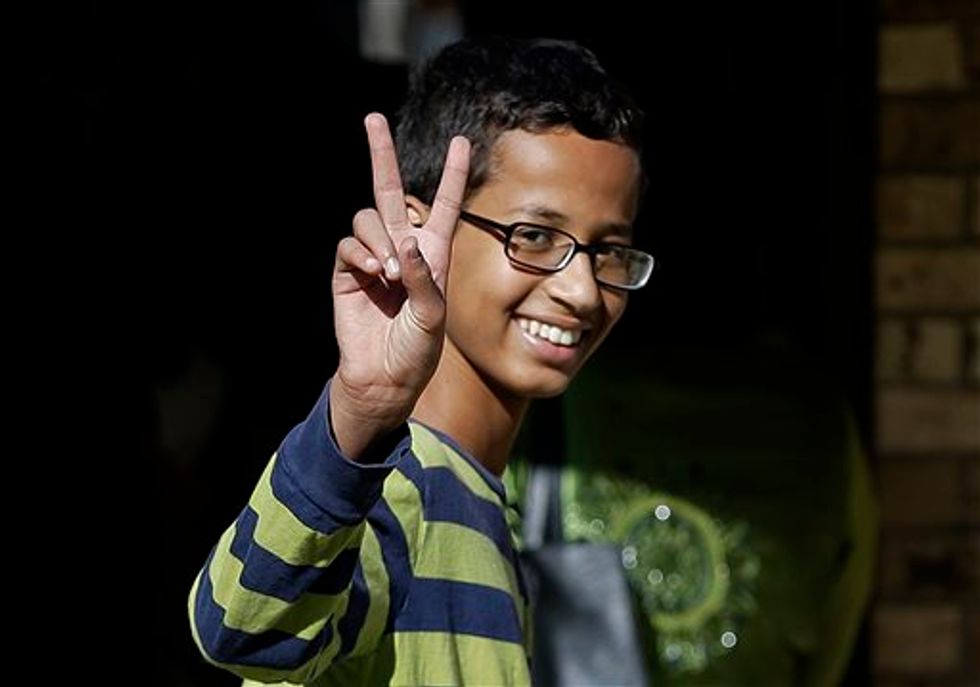 Ahmed Mohamed, 14, gestures as he arrives to his family's home in Irving, Texas, Thursday, Sept. 17, 2015. Ahmed was arrested Monday at his school after a teacher thought a homemade clock he built was a bomb. He remains suspended and said he will not return to classes at MacArthur High School. (AP/LM Otero)
"We have, as you may know, opened an investigation into the case of the young man in Irving, Texas," Lynch said, according to the Dallas Morning News. "So we will see where that investigation goes."
Lynch said "it's great to hear that the department has opened an investigation into the Irving, Texas, high school, that case of the treatment of Ahmed Mohamed," and added that "the kid with the homemade clock... was an issue of great concern and really struck a cord with many parents."
The announcement came after 29 members of Congress asked the attorney general to investigate whether Mohamed may have been profiled based on his faith and ethnicity.
Mohamed was detained, but quickly released, after police became suspicious of a clock he brought to school. His family questioned whether he was mistreated due to his religion.
The Dallas Morning News reports that the Irving school district has refused to release an inquiry sent by the Justice Department.
Mohamed's family eventually left Irving after reporting threats and now lives in Qatar. His lawyers have threatened the city and the school district with a lawsuit.