Saira Khan, the sister of suspected San Bernardino shooter Syed Farook, is speaking out for the first time since police told her that her brother committed mass murderer.
Khan and her husband, Farhan Kahn, who broke his silence the same day of the shooting, said Friday that they had no idea what their relatives were up to.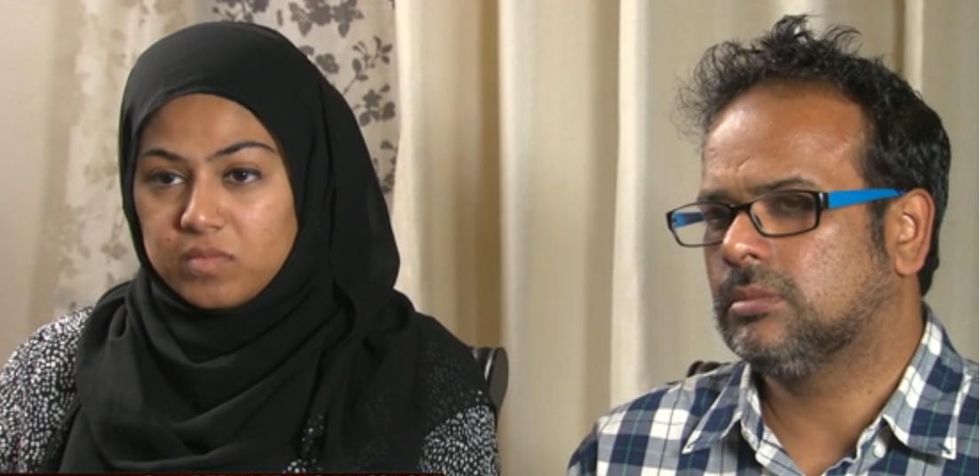 Image source: CBS News
"I can never imagine my brother or my sister-in-law doing something like this," Khan told CBS News. "Especially because they were happily married, they had a beautiful 6-month-old daughter. It's just mind-boggling why they would do something like this."
Khan said that Farook met his wife, Tashfeen Malik, on a dating website and that the two got engaged in 2013. Farook had traveled to Saudi Arabia prior to their engagement for the annual Muslim pilgrimage known as the Hajj.
He returned to Saudi Arabia again in July 2014 to bring Malik back to the U.S. Malik reportedly underwent a counterterrorism screening as part of the Homeland Security vetting process but was not on any watch lists.
One of Farook's former coworkers, Christian Nwadike, told CBS News that he believes the suspected shooter was "radicalized" through his marriage.
"Do you believe that he was radicalized?" CBS News reporter David Begnaud asked Nwadike.
"Yes, by the wife, I think he married a terrorist," Nwadike responded. "He was set up through that marriage."
Police say Farook and Malik fatally shot 14 people and injured 21 others at a social services facility in San Bernardino, California, Wednesday and then left. The two were killed in a shootout with police hours later.
Local and federal authorities are now investigating the massacre as possible terrorism but no formal conclusion has been reached.
"It is possible that this was terrorist related, but we don't know. It's also possible it was workplace related," President Barack Obama said from the Oval Office on Thursday.
"Until the FBI has been able to conduct what are going to be a large number of interviews, until we understand the nature of the workplace relationship between the individual and his superiors because he worked with the organization where this terrible shooting took place, until all the social media and electronic information has been exploited, we're just not going to be able to answer those questions," Obama said.
(H/T: CBS News)
–
Follow Jon Street (@JonStreet) on Twitter