A group of House Democrats attended a prayer service at a Northern Virginia mosque on Friday and expressed their solidarity with the country's Muslims.
Reps. Don Beyer (D-Va.), Eleanor Holmes Norton (D-D.C.) and Betty McCollum (D-Minn.) attended services at the Dar al-Hijrah mosque in Falls Church, Virginia on Friday. According to WRC-TV, Beyer organized the gathering in order to counter anti-Muslim rhetoric in the wake of the San Bernardino shooting on Wednesday.
"We don't all have the Donald Trump version of Muslims in America," Beyer, who encouraged other House members to attend services at mosques across the country, said while at Dar al-Hijrah Friday.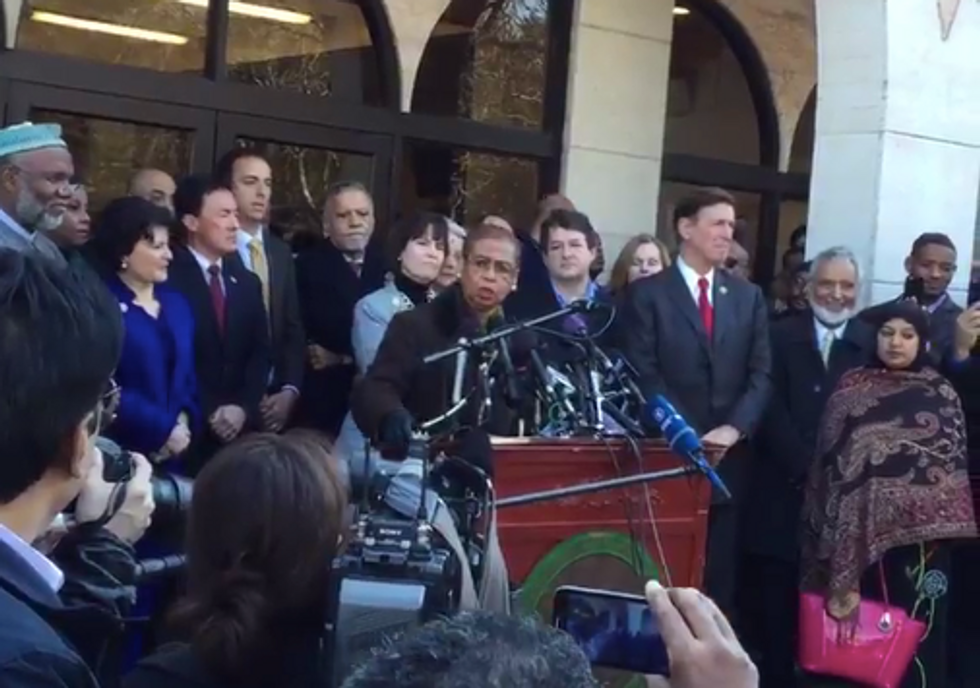 Image via screen grab from Twitter video
"We love everybody, you know? We're scared," one woman, wearing a head scarf and holding a small child, told WUSA-TV.
At a rally following the worship service, the national lawmakers joined state representatives to slam anti-Muslim rhetoric and pledge their support for those at the mosque.
"We can come today to say that we stand in total solidarity with you, and we represent millions more," Holmes Norton said at the rally. 
Eleanor Holmes Norton: I'm here to tell you brothers and sisters, you are not alone @wusa9 @imamjohari pic.twitter.com/tZNZQs4rkp

— Peggy Fox (@PeggyTV) December 4, 2015
"Religious freedom and anti-discrimination are paramount importance to me and to most, almost all, of our colleagues," Beyer said.
The mosque of choice for the elected officials, as reported by the Washington Times, is the same mosque that Anwar al-Awlaki, an accused al Qaeda recruiter, served as an imam at the time of the 9/11 terrorist attacks. The Washington Examiner reported that some of the hijackers worshipped at the mosque as well as the Fort Hood shooter.
WUSA reported that only Democrats attended the service in Virginia.
In solidarity with American Muslims, I'm attending prayer services today at @DaralHijrah1 w/ @RepDonBeyer & @BettyMcCollum04

— Eleanor H. Norton (@EleanorNorton) December 4, 2015
Looking forward to visiting @DaralHijrah1 to show that #IStandWithAmericanMuslims https://t.co/oYYVTHXbgX

— Rep. Don Beyer (@RepDonBeyer) December 4, 2015
As part of call w/ @RepDonBeyer & @keithellison I'm visiting Qns' mosque & school today to meet w/leaders, students https://t.co/VSXoYi6Aas

— Rep. Joe Crowley (@repjoecrowley) December 4, 2015