"Saturday Night Live's" cold open featured the comedy program's versions of Donald and Melania Trump as they detailed just who — or what — made the nice list or the naughty list this year.
Surprisingly, Trump, played by Taran Killam, put Democratic presidential candidate Hillary Clinton on the nice list — although he did refer to her as "the nutcracker."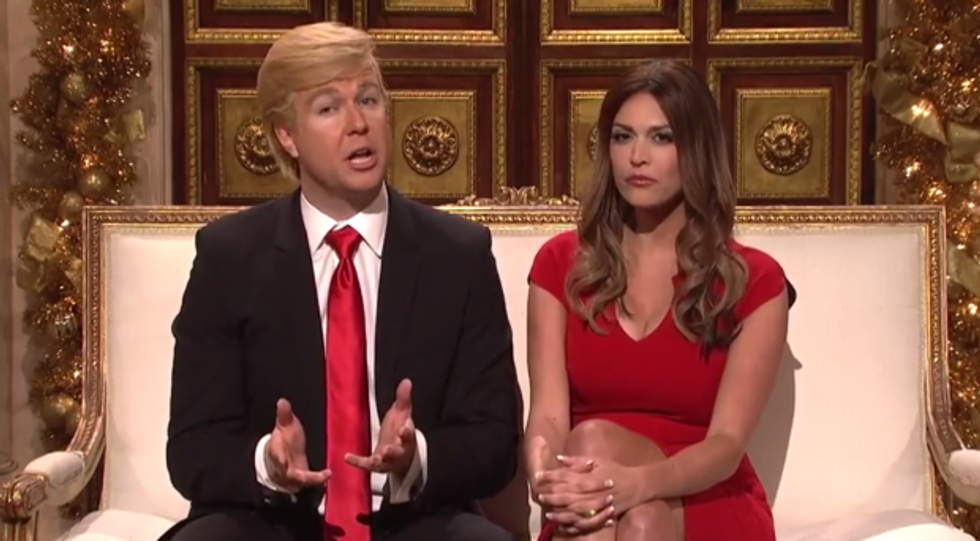 Image source: NBC
"She actually called me the other day," Killam as Trump said.
Cecily Strong, playing Melania, jumped in and said when Clinton called, she said, "I hope you are the Republican nominee, please, please let this happen."
And on the naughty list — Santa Claus.
"Controversial, I know, but look at the facts," Killam said. "This guy's a foreigner who works one day out of the year and give handouts. He's worse than Obama."
"Sorry about this Santa, but I just don't trust anybody who can fly over a wall," he continued.
Facebook co-founder Mark Zuckerberg also joined Santa on the naughty list. 
"You're a billionaire who's giving away almost all your money to charity? What the hell are you doing, you little nerd?" Killam said.
"Yes, if you give away your money, how will you stay married," a concerned Strong agreed.
Watch the "SNL" cold open below.