Former Australian Prime Minister Tony Abbott called for a reformation of the Islamic faith and urged Australians to stop being apologetic for Western culture's "clear superiority" over Islam.
It's "time Australians stopped being apologetic about the values that have made our country as free, fair and prosperous as any on Earth," Abbott wrote in a piece for Australia's Daily Telegraph timed to the one-year anniversary of the Sydney cafe terrorist attack.
"It's not culturally insensitive to demand loyalty to Australia ... we should be ready to proclaim the clear superiority of our culture to one that justifies killing people in the name of God," the politically conservative politician wrote, according to excerpts published by the paper Tuesday.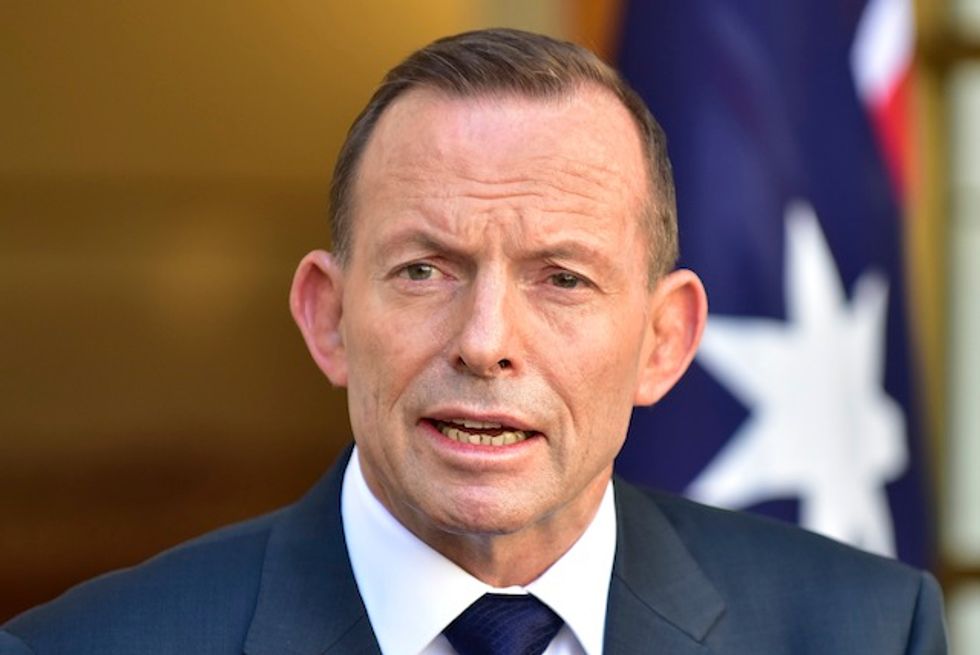 Former Australian Prime Minister Tony Abbott speaks during a press conference at Parliament House in Canberra, Australia,  Sept. 15. (AP Photo/Rob Griffith)
He argued that a reformation is needed, but that can be accomplished only by Muslims.
"Islam needs to delegitimize the urge to 'behead all those who insult the Prophet,' but only Muslims can do this," Abbott wrote.
The former prime minister again made his case in an interview Tuesday with Sky News in Australia.
"All cultures are not equal and, frankly, a culture that believes in decency and tolerance is much to be preferred to one which thinks that you can kill in the name of God, and we've got to be prepared to say that," he told Sky News.
Abbott said that Australia and the West "can't remain in denial about the massive problem within Islam," because even though some Muslims reject terrorism, others are "all too ready to justify 'death to the infidel.'"
"Surveys of British and French Muslims typically show up to 30 percent sympathizing with the aims if not the methods of Islamic State," Abbott wrote.
Even as he lambasted Islamic extremism, Abbott promoted reaching out to moderate Muslims.
"Fortunately, there are numerous Muslim leaders who think their faith needs to modernize from the kill-or-be-killed milieu of the Prophet Mohammad," he wrote.
"Everyone interested in a safer world should reach out to 'live and let live' Muslims and encourage them to reclaim their faith from the zealots," Abbott wrote.
"All of those things that Islam has never had — a Reformation, an Enlightenment, a well-developed concept of the separation of church and state — that needs to happen, but we can't do it; Muslims have got to do this for themselves, but we should work with those who are pushing in that direction," he told Sky News.