When a group of visiting Israelis set up a display on a Canadian campus promoting the democracy and freedoms enjoyed by Israelis, a student claiming to be Palestinian slammed the visitors for promoting "propaganda."
But her argument quickly backfired when she, unintentionally, made the same exact argument the multi-faith Israeli group of Jews and Druze were trying to convey with their visit.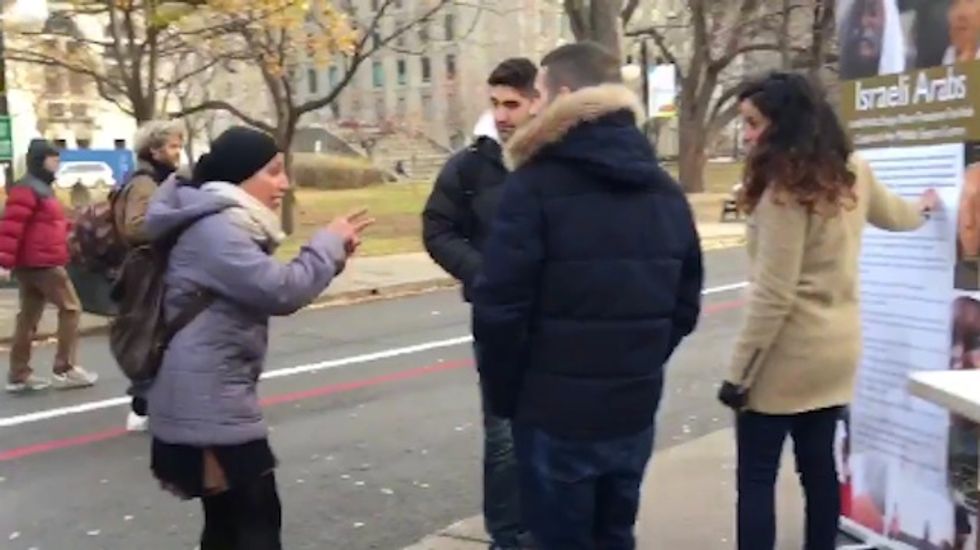 Little did this woman lambasting visiting Israelis know she was giving a big compliment to their country. (Image source: Stand With Us)
"This is propaganda," said the woman as she excoriated the Israelis at the McGill University campus for trying to compare the rights of Israeli-Arabs to Arabs in other Middle Eastern countries.
Waving her finger at them in disapproval, the woman — seen in the video wearing a black scarf tied around her hair — said, "You cannot compare the minority in Israel with Arab[s] in other countries, because Israel is a democratic state. I cannot expect from dictatorships the same treatment."
"Yes, that's sort of the point," Stand With Us — the pro-Israel advocacy group that sponsored the visit — wrote in a Facebook post.
The point the Israeli visitors were trying to make was that people of all faiths enjoy unique freedoms in their democratic country, which is surrounded by dictatorships and Islamist movements.
The pro-Israel advocacy group wrote, "Thanks to this young lady for inadvertently making the case for Israel!"
"Ultimate anti-Israel fail," Stand With Us concluded.
Stand With Us noted that the campus display detailed how Israeli-Arabs enjoy some of the highest quality of life in the Middle East.
Druze are an Arabic-speaking minority that ascribes to a monotheistic faith.  Among those living in Israel, many of the men in the community serve in the Israel Defense Forces.