If the government is empowered to single out one religion, it can single out another, said Christians and constitutional conservatives responding to Republican presidential candidate Donald Trump's call for temporarily banning Muslims from entering the U.S.
"As an evangelical Christian, I've seen how the culture is increasingly antagonistic to our beliefs," Penny Nance, president of Concerned Women for America, told TheBlaze. "It is increasingly difficult for us to live our lives without government intrusion. So, it would be foolish of us to support a religious test against anyone."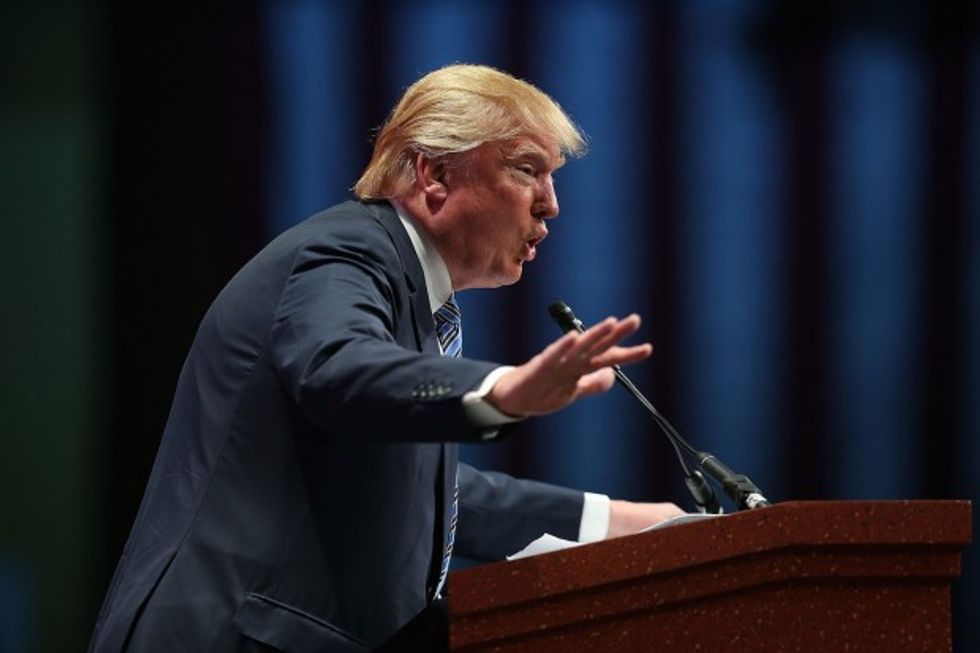 Joe Raedle/Getty Images
Trump, the leading Republican candidate for president in most early polls, called recently for a "complete shutdown of Muslims entering the United States," which has been widely criticized by Democrats and Republicans.
Nance cited the case of Kim Davis, the county clerk in Kentucky jailed for not issuing gay marriage licenses, as well as bakers and wedding photographers penalized by state and local governments for not doing business for gay weddings.
"There is a balance here. I am also a defense hawk and believe in national security and national sovereignty," Nance said. "But when you single out one religion, it has crossed the line. It breaks the principles of the founders."
Trump pointed out that former President Jimmy Carter restricted immigration from Iran.
"Carter Banned Iranians From Coming To U.S. During Hostage Crisis" https://t.co/Kok27117dl

— Donald J. Trump (@Donald J. Trump) 1449693677.0
Nance, however, said that is different because it did not target a specific religion, a constitutional freedom. She added she would support restricting immigration from high-risk countries, but not based on an individual's faith.
It wasn't long ago that the Obama administration labeled Christians and pro-life groups as potential terror threats, noted John Stemberger, president of social conservative Florida Family Action. He thinks that what Trump talked about opens the door to "a slippery slope" should government target other religions.
"There are three problems with what Donald Trump wants to do," Stemberger told TheBlaze. "It ignores the Constitution. It ignores immigration law. And it ignores that we need moderate Muslims to win the battle against ISIS."
Aside from the legal issues, it's not something that could ever be done, said Stemberger, a former political director for the Florida Republican Party.
"How would he do this? Would it include Muslims that converted to Christianity? White Muslims? Would they have to profess they aren't Muslims before getting into the country? Is it going to be based on how they dress?" Stemberger asked. "If they are terrorists, they will dress like cowboys and lie about being Christians."
Stemberger added that he has taken a strong stance against radical Islam. But he said that all people of faith should defend religious freedom in the larger context.
"If the government can ban Muslims, it can have the power to ban Christians," he said. "If the government can shut down mosques, it can shut down churches."
In a piece for the Christian magazine Providence, retired Marine Col. Keith Pavlischek raised issues about Trump's presidential strategy of targeting family members of the Islamic State.
"Trump's tough-mindedness might appreciably distinguish him from the current occupant of the White House, but one would hope, at the very least, his morality would equally distinguish him from our enemies," Pavlischek wrote.