Following the births of her two daughters in 2006 and 2008, Virginia Kruta — then in the U.S. Army and stationed at Fort Leonard Wood, Missouri — got a couple of pretty cool items in the mail.
They were signed letters addressed to Kruta's girls from then-President George W. Bush — something he did to show appreciation to new mothers on active-duty status.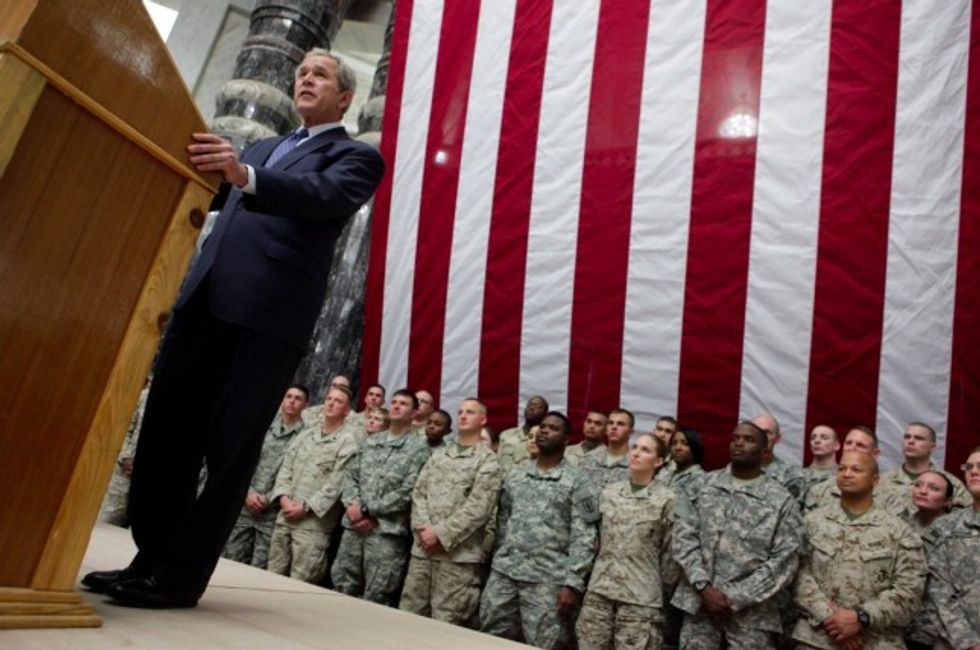 President George W. Bush speaks with U.S. troops at Camp Victory Dec. 14, 2008, in Baghdad. (AP Photo/Evan Vucci)
"But after separation from the military, a divorce, and two moves, I realized that the letters had disappeared," she wrote on IJReview.
So Kruta said she sent the following email on Sept. 30 to the former commander in chief through the George W. Bush Library:
Mr. President,

I was an Army x-Ray tech stationed at Fort Leonard Wood from 2006-2010, and during that time two of my daughters were born: Brooklyn Jade Harness, born September 7, 2006, and Olivia Caitlin Harness, born January 25, 2008.

At the time, I received a wonderful letter from you and the First Lady that acknowledged the sacrifices made not just by soldiers, but their families as well.

I have been out of the Army since 2010, and it saddens me to say that since I moved from Fort Leonard Wood I have been unable to locate the letters.
December came along, and Kruta noted she "had all but forgotten about that email. I had been busy starting a new job, helping the kids with homework, and getting the house ready for the upcoming holiday season."
On Tuesday, another surprise in her mailbox — a large envelope with the name "George W. Bush" on it: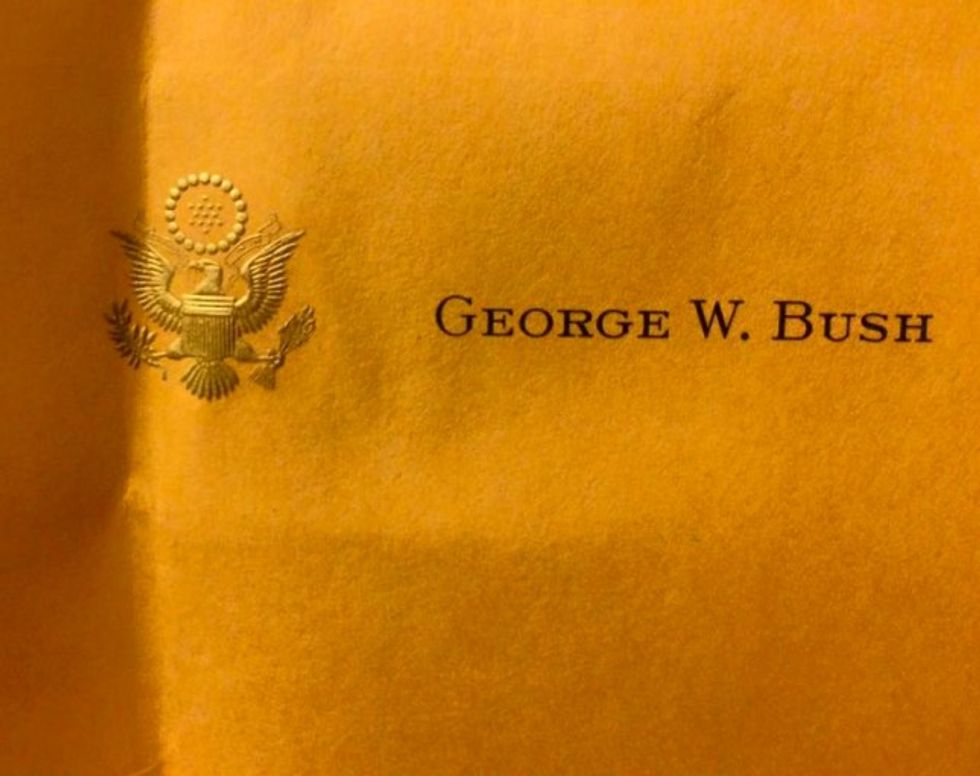 Image source: Facebook
And containing replacement copies of the letters Kruta had lost.
Here's how the letters read to Brooklyn and Olivia:
Welcome to the world! Your arrival has brought great joy to your proud family and the many others who already care so much about you.

Your life symbolizes the promise of tomorrow. Each day will offer you wonderful new adventures as you grow and learn.

Mrs. Bush and I wish you happiness, health, and much love. We send our warmest regards to you and your parents.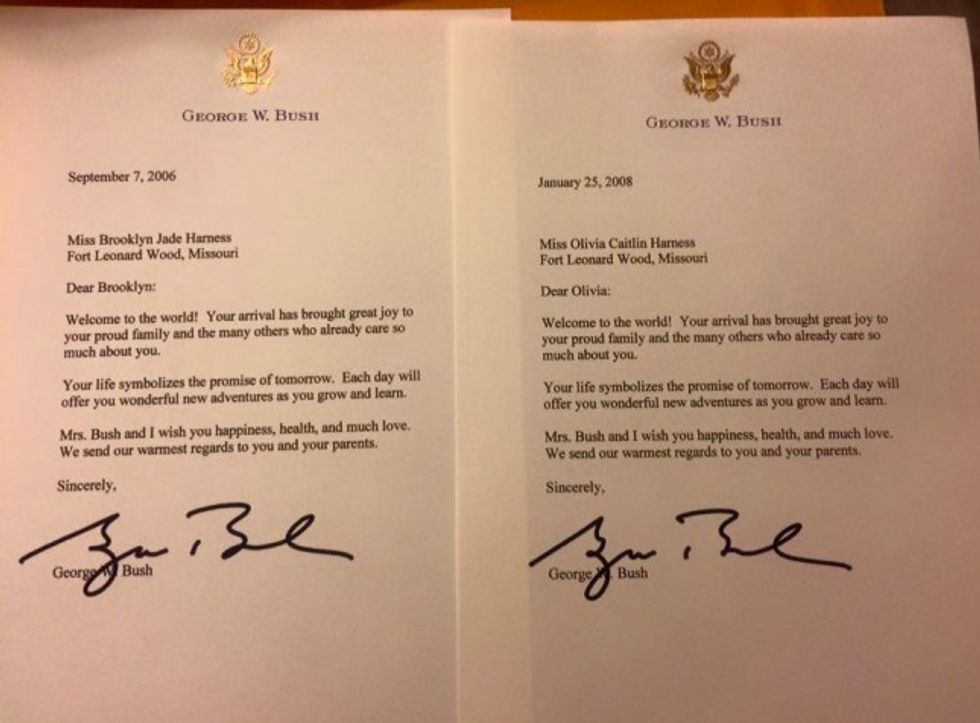 Image source: Facebook
Kruta said she was "amazed" to receive the replacements, even though she knew how devoted Bush has remained to those in the U.S. armed forces.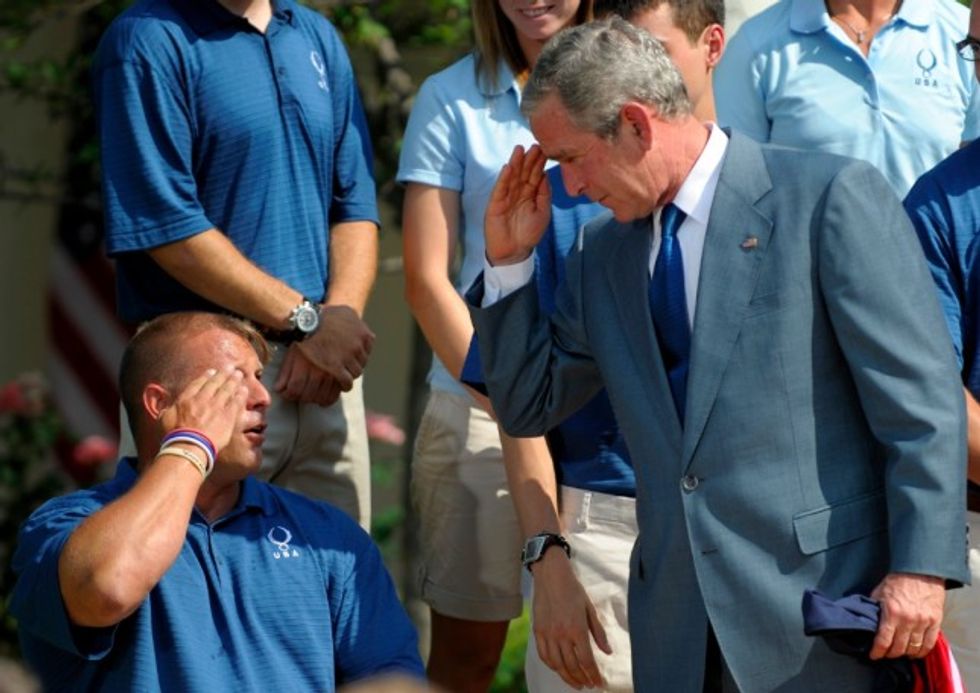 President Bush salutes Scott Winkler, an injured Iraq War veteran who made the U.S. Paralympic Track and Field Team, July 21, 2008, following remarks to the 2008 U.S. Summer Olympic Team in the Rose Garden of the White House. (AP Photo/Evan Vucci)
"When people ask me why, despite some policy differences, I absolutely miss President George W. Bush," Kruta noted on Facebook, "this right here is why."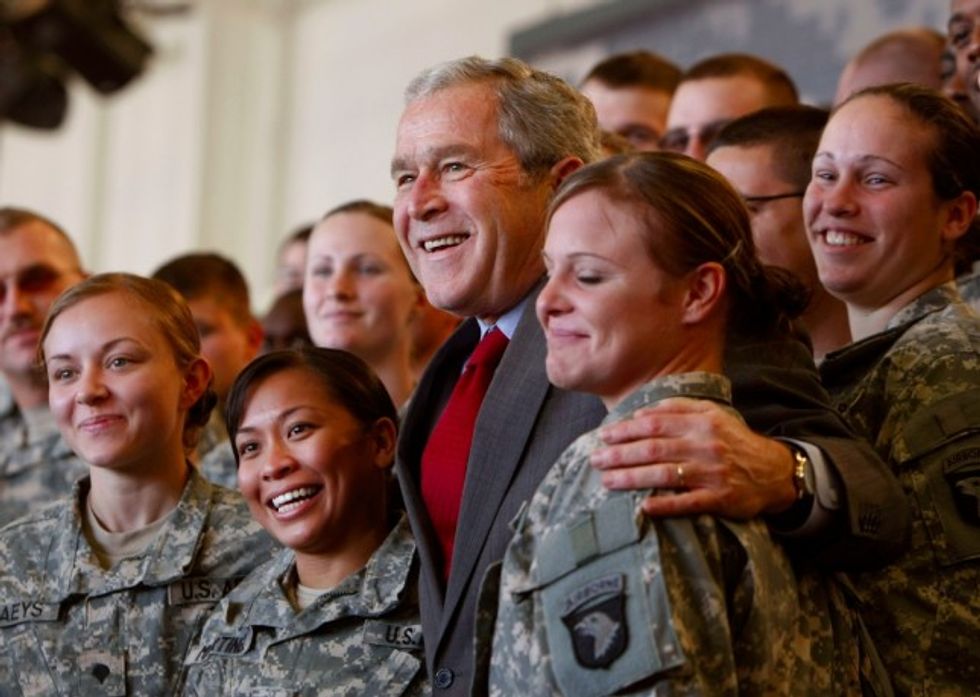 President George W. Bush poses for photos with soldiers after speaking at Fort Campbell, Ky., Nov. 25, 2008. (AP Photo/Gerald Herbert)
"Thank you, President Bush, for a wonderful gift this holiday season," she wrote. "To you, it may have been a small gesture. To my girls, it's a very personal reminder that they served every day with me."
This story has been updated.
(H/T: IJReview)
—
Follow Dave Urbanski (@DaveVUrbanski) on Twitter