WASHINGTON (TheBlaze/AP) -- Republican Donald Trump has scrapped a planned trip to Israel, saying he will reschedule "at a later date after I become President of the U.S."
Trump tweeted Thursday that he is postponing the trip, which had become problematic for Israeli Prime Minister Benjamin Netanyahu. Viewed as a Republican Party supporter, Netanyahu faced calls to cancel the visit, planned for Dec. 28, after Trump called for keeping Muslims from entering the U.S. and made controversial comments to a Jewish group.
Trump told Fox News there were many reasons he decided to hold off on a trip, among them that he didn't want to put Netanyahu in a bind. "In fact, I did a campaign ad for him, and he's a good man, but I didn't want to put him under pressure," Trump said.
"You know, he said, 'We have a meeting,' and he looks forward to the meeting and all of that. But I didn't want to put him under pressure, No. 1. I also did it because I'm in the midst of a very powerful campaign that's going very well and it was not that easy to do. So I would say lots of different reasons," Trump said.
Trump has the GOP in turmoil over his call for a temporary ban on Muslims entering the U.S. following last week's mass shooting by an Islamic militant couple that killed 14 people in San Bernardino, California. Netanyahu's office had said in a statement issued Wednesday that he rejects Trump's comments about Muslims but planned to move forward with the meeting with Trump.
Israeli Prime Minister Benjamin Netanyahu issued a statement Wednesday night rejecting Republican presidential candidate Donald Trump's remarks about Muslims, but added that Israel is also "fighting against militant Islam."
This, as 37 mostly left-wing members of the 120-seat Knesset signed a petition appealing to Netanyahu to cancel the meeting with Trump, and one Muslim lawmaker even asked he be blocked from entering Israel.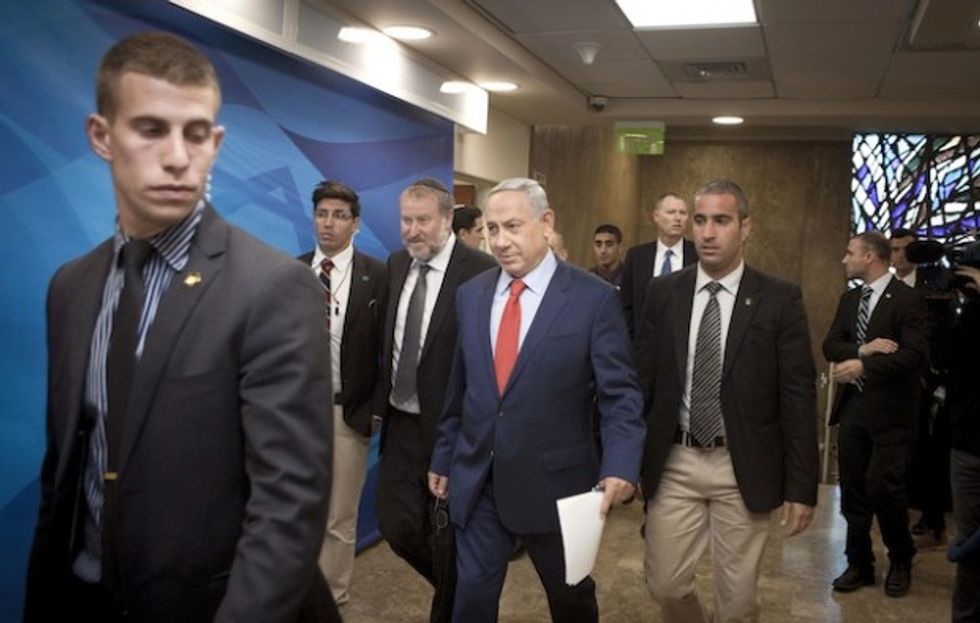 Israeli Prime Minister Benjamin Netanyahu arrives for the weekly cabinet meeting in Jerusalem, Sunday, Nov. 29, 2015. (Dan Balilty/Pool Photo via AP)
In his statement, Netanyahu said that he "rejects Donald Trump's recent remarks about Muslims."
"The State of Israel respects all religions and strictly guarantees the rights of all its citizens. At the same time, Israel is fighting against militant Islam that targets Muslims, Christians and Jews alike and threatens the entire world," the prime minister said.
Netanyahu emphasized that his meeting the GOP candidate was not an endorsement, rather a "uniform policy" to meet all candidates who visit and request a meeting.
The Israeli leader noted that the Trump visit was scheduled two weeks ago, which was before his controversial remarks.
The Israeli population has a sizable Muslim minority. Twenty percent of the population is ethnically Arab. More than 80 percent of that group are members of the Muslim faith.
Issawi Frej, an Israeli-Arab Muslim lawmaker with the left-wing party Meretz, sent a letter to Israel's interior minister Wednesday asking Trump's entry to Israel be blocked.
"As an Israeli citizen, I ask that the state treat the racism against me in the same way it would relate to racism against Jews. Just as it is obvious that Israel wouldn't allow an anti-Semite to use it to advance its political goals, so too, should be the case of Trump," Frej said in a statement.
Trump is "not only a racist, but a danger to the free world," he wrote. "He is a man who incites against 20 percent of Israel's population, a man who wants to fan the flames of hatred everywhere he visits."
On Monday, Trump called for a "total and complete shutdown of Muslims entering the United States" until lawmakers "can figure out what is going on."
---