Iowa Rep. Steve King (R) contrasted Christianity and Islam during an interview Wednesday, saying that Jesus Christ did not kill people, but the Prophet Mohammad did.
Responding to MSNBC "All In" host Chris Hayes, who said that last month's Planned Parenthood shooter was driven by his Christian faith, King said that Jesus never taught to kill.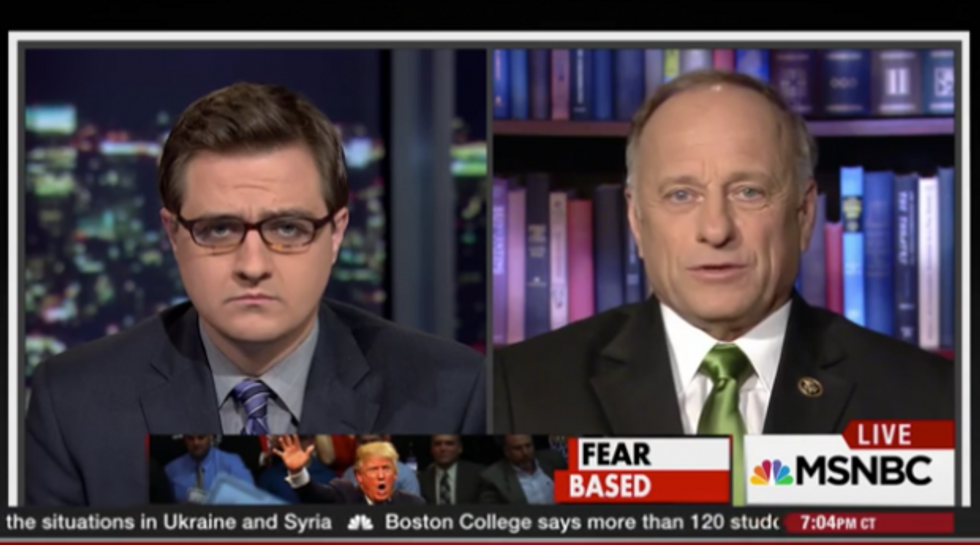 Image source: MSNBC
"Jesus didn't teach people to kill," King said. "That's not Jesus' teachings."
"Jesus never ordered anyone to be killed, and he never raised his hand to injure anyone specifically," he continued, adding that he believes Planned Parenthood's actions don't align with the Christian faith. "But Mohammed did, and there is a big difference in this."
Earlier in the segment, Hayes used Donald Trump's proposed temporary ban on Muslims entering the U.S. to play the "what if" game, asking King how he'd feel if someone proposed to bar Jews from entering the country.
"Well, if Jews, in the name of their religion, were killing Americans, I think it would be an appropriate comparison," King replied. "But as far as I know, there is only one religion doing that, and it is a segment of the religion of Islam that's doing that."
Watch the segment below via MSNBC:
—
Follow the author of this story on Twitter and Facebook:
[facebook //www.facebook.com/plugins/like.php?href=