Republican presidential candidate Carly Fiorina snapped at CNN host Chris Cuomo when he asked her if she regrets her past comments condemning Planned Parenthood following the deadly shooting in Colorado.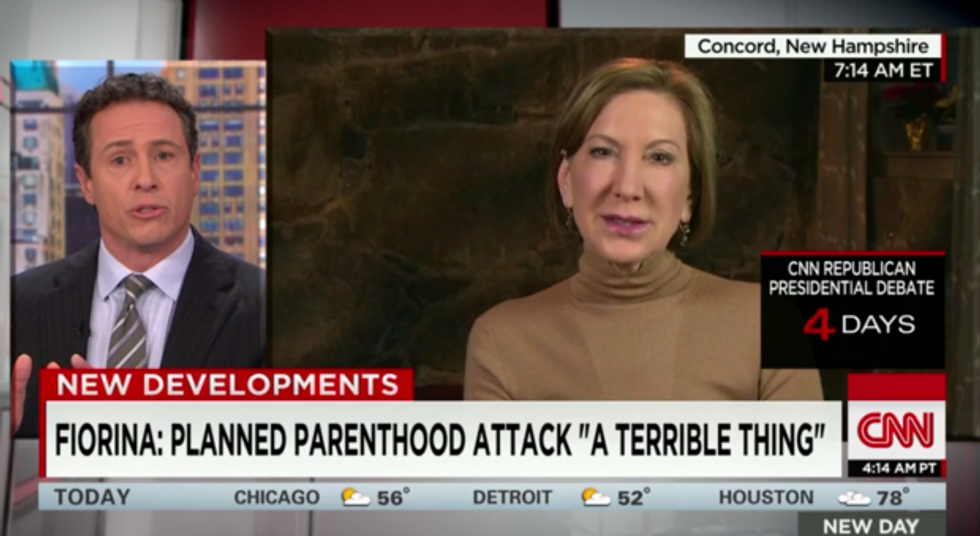 CNN
Cuomo first asked, "Do you feel any sense of regret about how you characterized what was going on at Planned Parenthood after the attack in Colorado?"
He then added, "Because of what the man said which seems as though he was influenced by some of the rhetoric coming out of you and others that painted a very ugly picture — and unfair one — about Planned Parenthood."
Visibly annoyed by the line of questioning, Fiorina snapped back, "Oh, please. Really, Chris?"
The Republican candidate said the Planned Parenthood shooter is "deranged" and should be "put away for life." However, she continued, "that has nothing to do with the truth of what is going on in Planned Parenthood, and this is a typical left-wing tactic, to try and shut down the truth by silencing people."
Cuomo then asserted the undercover Planned Parenthood videos, released by the Center for Medical Progress, were "edited" and it appears the shooter "killed in the name" of what was depicted in the footage.
"Careful, you're a journalist," Fiorina warned. "I don't recall anyone in the pro-life community celebrating this tragedy. … It's clear what your opinion is, Chris."
"I think you've bought the Planned Parenthood line, hook, line and sinker. Good to know that," she said.
Watch the tense exchange below via CNN:
---