Though President Barack Obama has been one of the most pro-abortion rights presidents in history, he actually garnered some support from a leading abortion opponent recently.
On Thursday, Obama signed the Every Child Succeeds bill, which replaces No Child Left Behind. For the first time in an education bill, a provision permanently codifies an prohibition on abortion funding for the entire Elementary and Secondary Education Act. This would span education authorization to the programs like the State Children's Health Insurance Program (SCHIP) and the Department of Defense.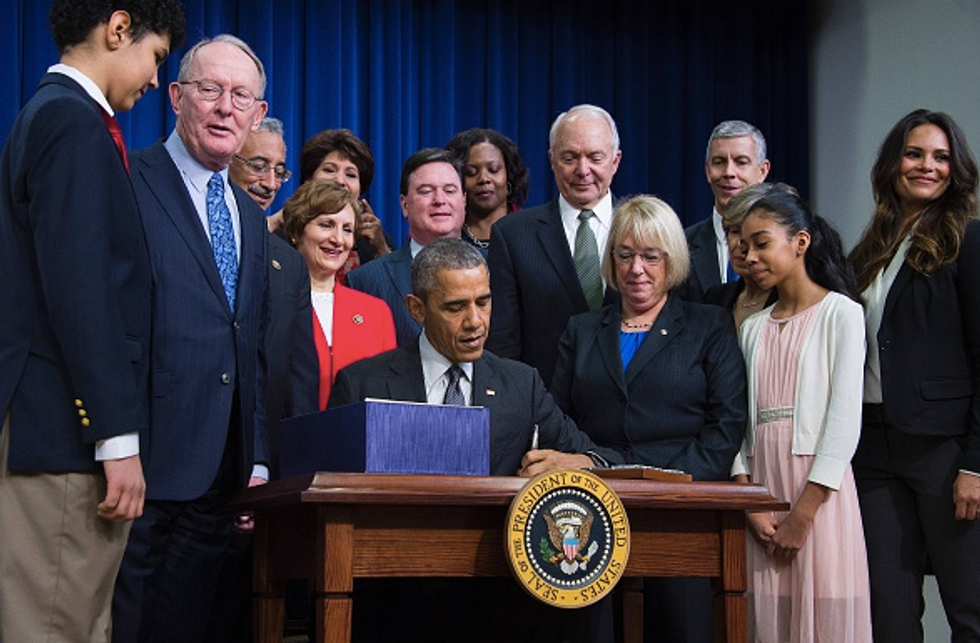 President Barack Obama signs Every Student Succeeds Act, a bipartisan rewrite of No Child Left Behind, Dec. 10. (Jim Watson/AFP/Getty Images)
The March for Life Education and Defense Fund, which sponsors the annual March for Life event in Washington, D.C., issued a press release headlined, "President Codifies Pro-Life Language in Education Bill."
However, most of the praise from March for Life Action President Tom McClusky was reserved for House Republicans, chiefly House Speaker Paul Ryan (Wis.) and Rep. John Kline (Minn.).
"House Education and the Workforce Committee Chairman John Kline deserves high praise for taking this initiative," McClusky said in a statement. "The truth of the matter is that the abortion industry receives taxpayer funding through various parts of the federal government. Chairman Kline saw the opportunity to stop one of those spigots and he turned it off, to the benefit of all taxpayers. While Americans seem divided on the issue of abortion, a large majority of the country agrees that taxpayers should not be subsidizing the abortion industry."
"If this is an example of Speaker Paul Ryan's vow to let Chairmen have more power over what comes to the House floor, we fully support that, especially when Members like Rep. Kline show such pro-life forward thinking," McClusky continued.
The provision was one small part of a very broad education bill that dealt with standards, federal funding and the federal role in K-12 education. Thus, one abortion provision was not enough to prompt the president to veto a larger legacy-building bill that replaced the controversial No Child Left Behind law.
Nevertheless, Obama has been an ardent advocate of abortion, speaking at the Planned Parenthood convention and aggressively defending the organization's federal funding.
Although recognizing the provision, the conservative group, Americans for Limited Government, warned that the bill could open the door for indirect funding of Planned Parenthood.