WASHINGTON (TheBlaze/AP) -- In the wake of terror attacks at home and abroad, more Americans support increased action against the Islamic State, according to a new Associated Press/GfK poll.
The poll found that the percentage of Americans who favor deploying U.S. troops to fight the Islamic State has risen from 31 percent to 42 percent over the past year in AP-GfK polling, although it isn't clear whether those respondents favor a small contingent or a larger ground force that might engage in another protracted Middle Eastern war. Other national surveys in recent weeks have found similar or greater support for American ground troops.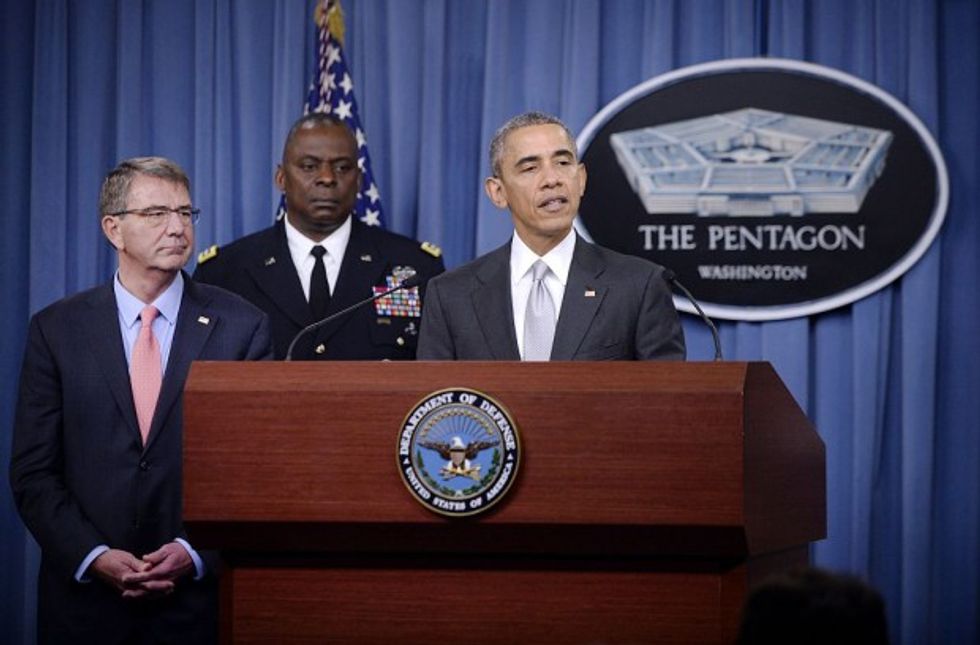 President Barack Obama delivers a statement from the Pentagon briefing room on the U.S.-led counter-Islamic State campaign Monday. (Getty Images/WH Pool)
In the poll, 56 percent of Americans said the U.S. military response to the Islamic State has not gone far enough, up from 46 percent since October 2014.
Six in 10 Republicans, as opposed to 3 in 10 Democrats or independents, support sending ground troops, the poll showed.
Analysts say the public desire for more action reflects growing anxiety over the Islamic State after its attack in Paris, and the shootings in San Bernardino, California, carried out by a couple inspired by the group. There is also widespread unease about President Barack Obama's strategy, which envisions a long, slow campaign of airstrikes, diplomacy, training, financial sanctions and other measures.
Just 28 percent in the survey said President Obama has clearly explained the United States' goals in fighting the Islamic State, while 68 percent said he has not. Eighty-eight percent of Republicans and 66 percent of independents said the president had not clearly explained the goals, and even among Democrats 51 percent agreed.
The AP-GfK Poll of 1,007 adults was conducted online using a sample drawn from GfK's probability-based KnowledgePanel, which is designed to be representative of the U.S. population. The margin of sampling error for all respondents is plus or minus 3.4 percentage points.
—
Follow the author of this story on Twitter and Facebook:
[facebook //www.facebook.com/plugins/like.php?href=