Former CIA Director James Woolsey went on The Glenn Beck Program Tuesday evening to discuss the possibility of a "catastrophic" attack on U.S. soil — an assault he believes would come from Iran.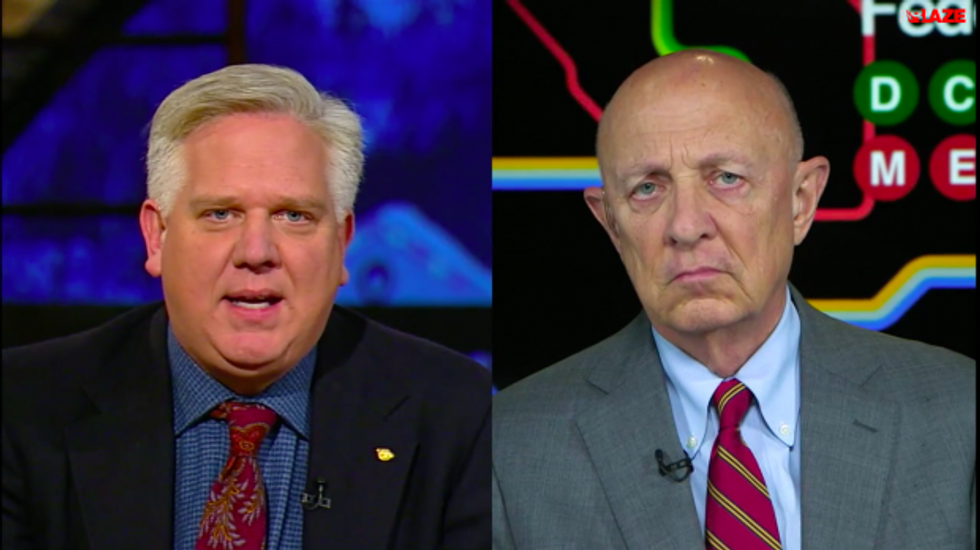 Former CIA Director James Woolsey discussing potential for an attack on U.S. soil with Glenn Beck Tuesday, Dec. 15.
"Iran has given every indication they would go forward with [an attack] and they have ballistic missiles that could put something into orbit," Woolsey told Glenn Beck.
The former CIA official went on to say that he believes Iran is very close to having a nuclear weapon, even adding that he could "make the case" that the Persian country already has nuclear capability.
"With a nuclear weapon and something that can orbit it, they can use an electromagnetic pulse burst over the center of the United States to take down our electric grid."
According to Woolsey, all infrastructure in the United States relies on the electric grid, adding that the U.S. would suffer roughly an 80 percent death rate if the country was attacked through an electromagnetic pulse.
Woolsey, however, was not optimistic in his belief that the White House is doing anything to help prevent the opportunity for such an attack. The former CIA director's comments come as conversations continue to ramp up over the Department of Homeland Security's preparedness, should an attack on the U.S. electrical grid occur.
As it currently exists, the American power grid is interconnected through several regional providers, so, should one system have particularly heavy demand, it can pick up power from a neighboring system. However, this leaves the electrical grid very vulnerable to cyberattacks that could leave large swaths of the U.S. and Canada without power, according to journalist Ted Koppel, author of "Lights Out," a book about the U.S. power grid.
Koppel said in November that, after talking with every former secretary of Homeland Security and current Secretary Jeh Johnson, the U.S. has "no plan" to prevent an attack on the electrical grid — a statement the Department of Homeland Security quickly denied, claiming not only to have a plan but also saying it has performed national exercises to test the plan in place.
However, Woolsey insisted to Beck that the U.S. government is not prioritizing protecting the American power grid.
"There have been members of Congress that are very helpful on this and trying to get it front and center, but in the Executive Branch, it's just not something they're dealing with," Woolsey told Beck.
The former CIA director said North Korea has the capability to launch an electromagnetic attack today, along with China and Russia, though he said current deterrents may work to prevent an attack from the latter two.
Woolsey said current deterrents would not work with Iran, echoing Middle East scholar Bernard Lewis' statement, that — given radical Islamists "apocalyptic mindset" — "mutually assured destruction is not a deterrent — it's an inducement." 
Complimentary Clip from TheBlaze TV The full episode of The Glenn Beck Program, along with many other live-streaming shows and thousands of hours of on-demand content, is available on just about any digital device. Click here to watch every Glenn Beck episode from the past 30 days for just $1!
—
Follow Tré Goins-Phillips (@tregp) on Twitter