Newly translated video shows Hamas leader Khaled Mashaal praising young Palestinians who have attacked Israelis using their knives and cars as "the most exalted and the noblest of people" and saying Islamic teachings support their attacks.
"By God, they are the most exalted and the noblest of people," Mashaal said in a Dec. 10 speech in Kuala Lumpur.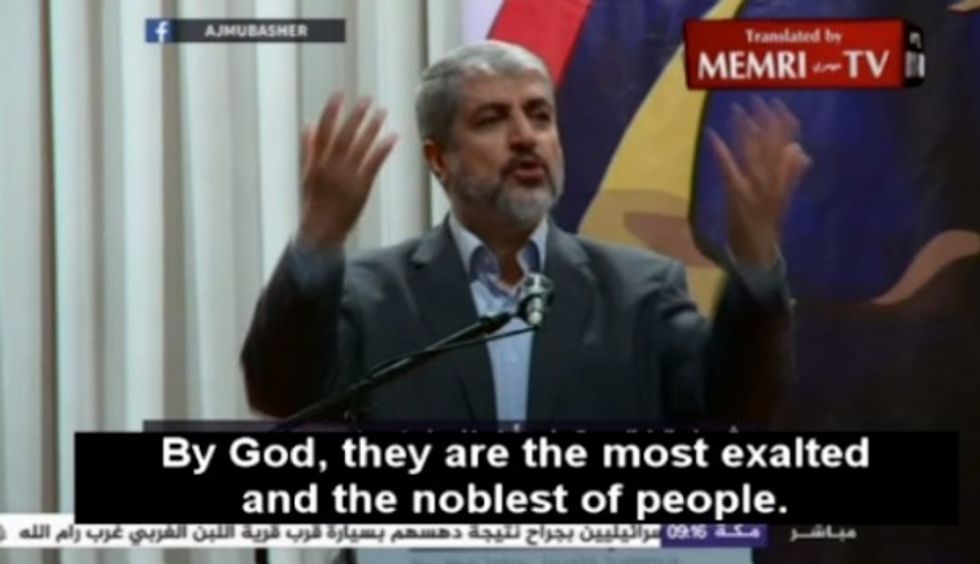 Hamas leader Khaled Mashaal praised Palestinian assailants as "the most exalted and the noblest of people." (Image source: MEMRI)
The Middle East Media Research Institute on Monday posted translated excerpts of Mashaal's remarks in which he encouraged Palestinian youths to use whatever means at their disposal to attack Jews.
"Weapons like Kalashnikovs or missiles are not at hand, but there are knives and cars with which to run over the enemies," Mashaal said.
"By God, after the knives used by the people of the West Bank and Jerusalem, can anyone possibly have an excuse to abandon the path of jihad? Nobody can have such an excuse," he said, according to MEMRI's translation.
"Our Lord says, 'Allah does not impose upon anyone a duty but to the extent of his ability,'" Mashaal continued.
"Therefore, the young man who puts his life on the line and the heroic sister, with nothing but a knife at hand, are justified and Allah accepts them. This is up to Allah, but he accepts their jihad and their martyrdom," Mashaal said.
Dismissing the concept of negotiations with Israel, Mashaal said, "The so-called peace process is futile. There is no peace. Only the path of jihad, sacrifice and blood."
Israel has faced a three-month wave of nearly daily Palestinian stabbing, car-ramming and shooting attacks.
A public opinion poll published Monday by the Palestinian Center for Policy and Survey Research found that two-thirds of Palestinians support the stabbing attacks.