Saudi Arabia announced Tuesday that it would head a new "Islamic military alliance" to fight terror, but one of the participating nations, Sudan, is considered by the U.S. State Department to be a "state sponsor of terrorism."
Another participant is "Palestine," whose president, Mahmoud Abbas, earlier this month described the three-month wave of Palestinian terrorist attacks against Israelis as a "peaceful popular uprising."
Critics have also questioned the idea of Saudi Arabia leading a coalition against terrorism given the billions the nation has spent over the years funding radical Wahhabi mosques and madrassas that preach intolerance against nonbelievers.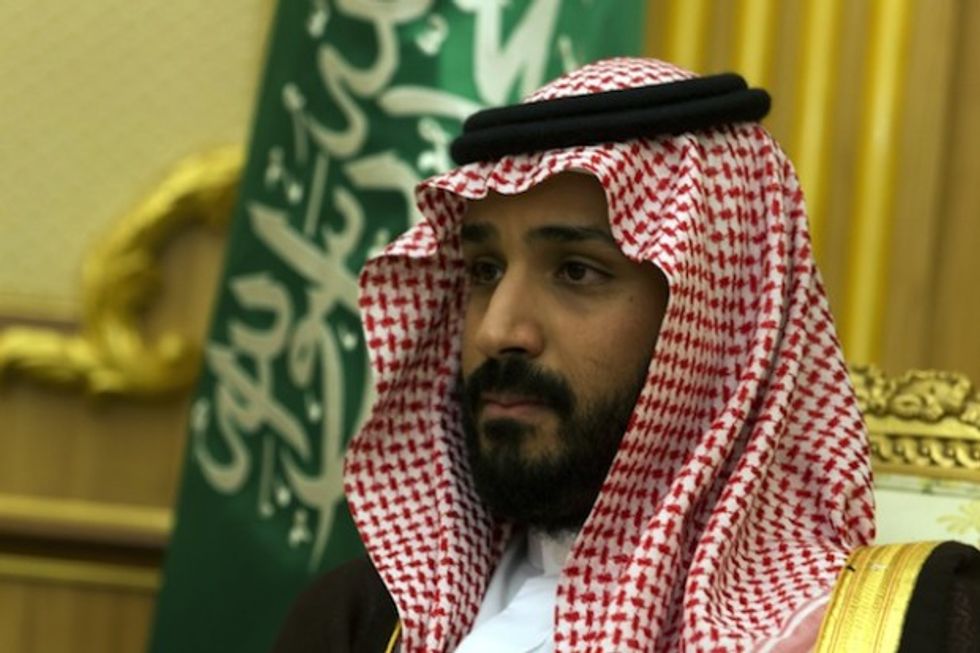 Saudi Defense Minister Mohammed bin Salman bin Abdul Aziz in the capital city of Riyadh Oct. 13. (Kenzo Tribouillard/AFP/Getty Images)
One glaring omission in the Saudi-led coalition of Islamic countries fighting terror was Iraq, where Islamic State jihadists have captured territory and military equipment as a first step to establishing the stated goal of a global caliphate.
Another omission was Iran, the Shiite rival of Sunni Saudi Arabia. The two countries are backing opposing sides in the Yemen conflict and in Syria.
Reuters quoted Saudi Defense Minister Mohammed bin Salman who told reporters Tuesday that the alliance would focus not only on the Islamic State but "any terrorist organization that appears in front of us."
The Saudi statement announcing the coalition noted that the antiterrorism endeavor was based on Islamic Shariah teachings "that reject terrorism in all its forms and manifestations because it is a heinous crime and injustice rejected by all heavenly religions and human instinct."
The statement emphasized that terrorism cannot be excused: "[A]cts of corruption and terrorism cannot be justified in any way, and hence it should be fought by all means and collaboration should be made to eliminate it because this is cooperation in righteousness and piety."
Here is the full list of participants in the alliance, as posted by the Saudi Press Agency: Saudi Arabia, Jordan, United Arab Emirates, Pakistan, Bahrain, Bangladesh, Benin, Turkey, Chad, Togo, Tunisia, Djibouti, Senegal, Sudan, Sierra Leone, Somalia, Gabon, Guinea, Palestine, Comoros, Qatar, Cote d'Ivoire, Kuwait, Lebanon, Libya, Maldives, Mali, Malaysia, Egypt, Morocco, Mauritania, Niger, Nigeria, and Yemen.