There is no evidence that the couple suspected of embarking on a shooting rampage that left 14 people dead in San Bernardino, California, this month were involved with a terror cell, according the director of the FBI.
Without being involved with a cell, it's likely that the married couple, Syed Farook and Tashfeen Malik, were inspired by the Islamic State — not necessarily organized by the militant group.
According to Reuters, FBI Director James Comey said at a counterterrorism event Wednesday that the Islamic State has "revolutionized" terrorism as it inspires followers to commit attacks on a smaller scale through the use of social media and propaganda worldwide.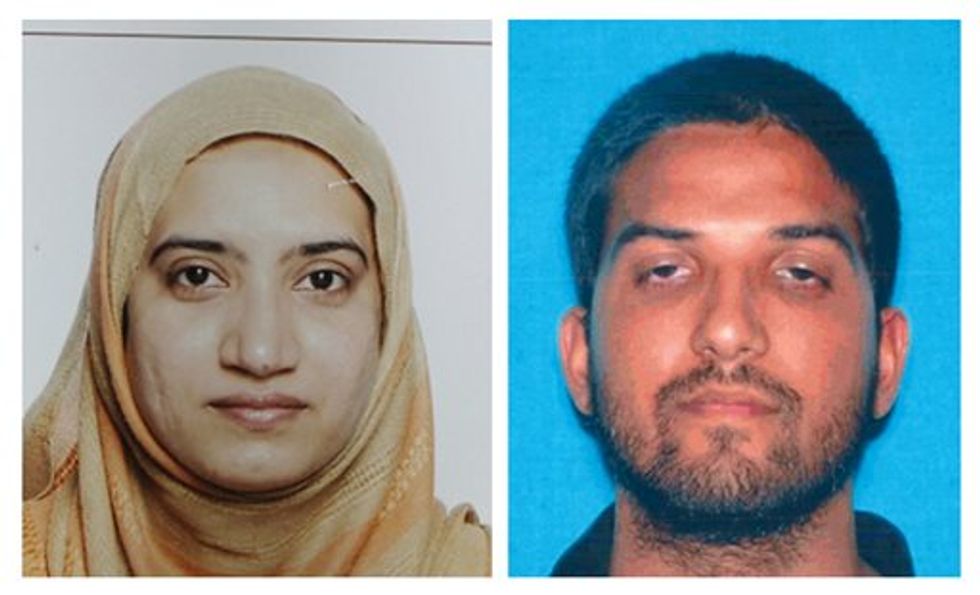 This undated combination of photos provided by the FBI, left, and the California Department of Motor Vehicles shows Tashfeen Malik, left, and Syed Farook. (FBI, left, and California Department of Motor Vehicles via AP)
"Your parents' al Qaeda was a very different model than the threat we face today," Comey said. 
Comey said the Islamic militant group has "perfected" the use of social media, particularly Twitter, in a way to gain access, inspire and encourage supporters worldwide.
"Twitter works as a way to sell books, as a way to promote movies, and it works as a way to crowdsource terrorism — to sell murder," he said.
As Malik reportedly entered the U.S. on a fiancé visa, the House Judiciary Committee has called for an overhaul of the screening process for visas.  One lawmaker in particular, Rep. Vern Buchanan (R-Fla.), is urging the federal government to extensively screen social media posts of people wishing to come into the U.S. before allowing them to do so.
(H/T: Reuters)