The $1.1 trillion omnibus bill leaves Planned Parenthood funding unscathed, despite some efforts by abortion opponents in Congress to curb — or at least do an audit of — the taxpayer dollars going to the organization. This has both the White House and the nation's largest abortion provider to declaring victory.
"There was a period of time earlier this fall when I was asked frequently if the administration would accept any riders related to Planned Parenthood funding," White House press secretary Josh Earnest said, while talking about numerous other issues. "We did not."
Asked about a rider related to the IRS and an audit of Planned Parenthood, "we did not accept that rider either," Earnest continued. "So, we walked into these negotiations focused on making sure that Republicans would not succeed in advancing their ideological agenda through the budgetary process."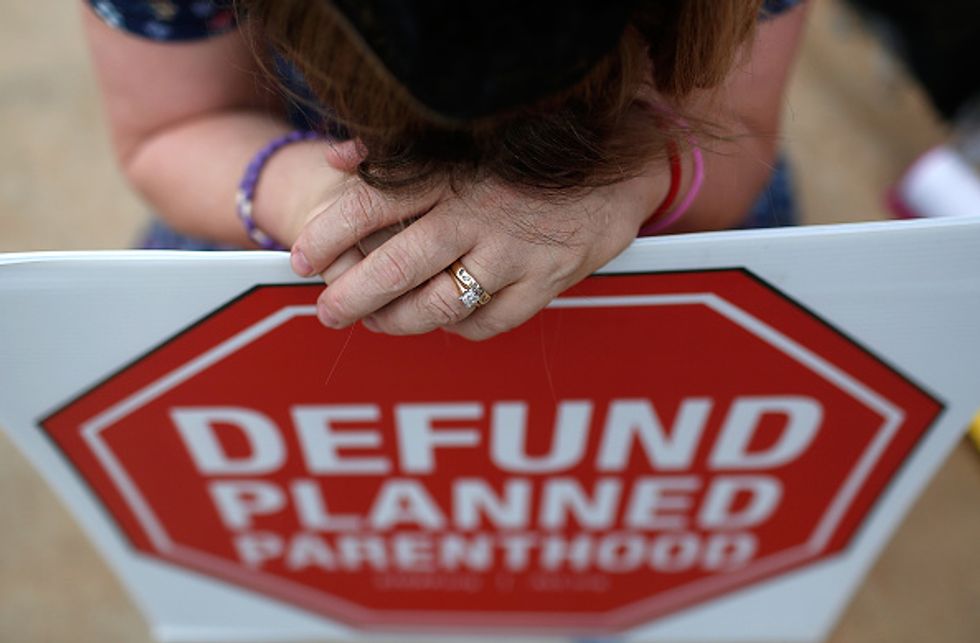 Anti-abortion activists protest at site of a proposed Planned Parenthood facility. (Win McNamee/Getty Images)
The push to roll back funding came after the release of shocking undercover videos that appeared to show Planned Parenthood executives promoting the sale of unborn baby body parts.
"Many of my colleagues and I still believe the better choice for taxpayers is to redirect Planned Parenthood's federal funding to the thousands of community health centers that are actually providing health services to women in need," Rep. Jim Jordan (R-Ohio), chairman of the conservative House Freedom Caucus told TheBlaze in a statement.
Planned Parenthood Action Fund Vice President Dana Singiser praised Democratic congressional leaders and "pro-women's health champions on the appropriations committees" for "holding the line against these harmful policy riders and cuts to key women's health programs."
"Extreme members of Congress spent an entire year targeting access to reproductive health care at every opportunity — even threatening to shut down the government," Singiser said in a statement. "Today's budget bill maintains access to critical preventive health services and lacks these harmful attacks on women's health care — at home and abroad."
Rep. John Fleming (R-La.) said he would vote against the omnibus legislation on several fronts, including abortion issues.
"As a Freedom Caucus member, I support our efforts to amend the bill, including conscience protections for pro-life healthcare providers, striking the online spying regulations, and putting a pause on admitting any new refugees until we can ensure proper vetting and prevent infiltration by terrorists," Fleming told TheBlaze in a statement.
The omnibus legislation does adds funds for abstinence education while cutting funds to organizations that support coercive abortions, according to the March for Life Education and Defense Fund. However the legislation still allows churches to be forced to directly pay for abortions through their insurance plans and requires taxpayer funding of abortions through federal agencies and state exchanges.
"We are told that the Republican Leadership fought hard for conscience rights and for that I am grateful," Tom McClusky, March for Life Action Vice President of Government Affairs, said in a statement. "However, because of the closed door process, the exclusion of all but a handful of elected officials and the absence of any acknowledgment of this terrible ethical dilemma from Leadership, California churches will continue to be forced to pay for abortions through their own insurance, a violation of federal law. With this spending bill, Congress shoulders the responsibility alongside the Obama Administration for this gross violation of our First Amendment rights. Ironically, the text of this bill came out on the 224th anniversary of the ratification of the Bill of Rights."