A Virginia school district cancelled Friday classes as well as weekend activities over the "tone and content" of phone calls and emails about a high school calligraphy assignment using the shahada — the First Pillar of Islam — which states, "There is no god but Allah. Muhammad is the messenger of Allah."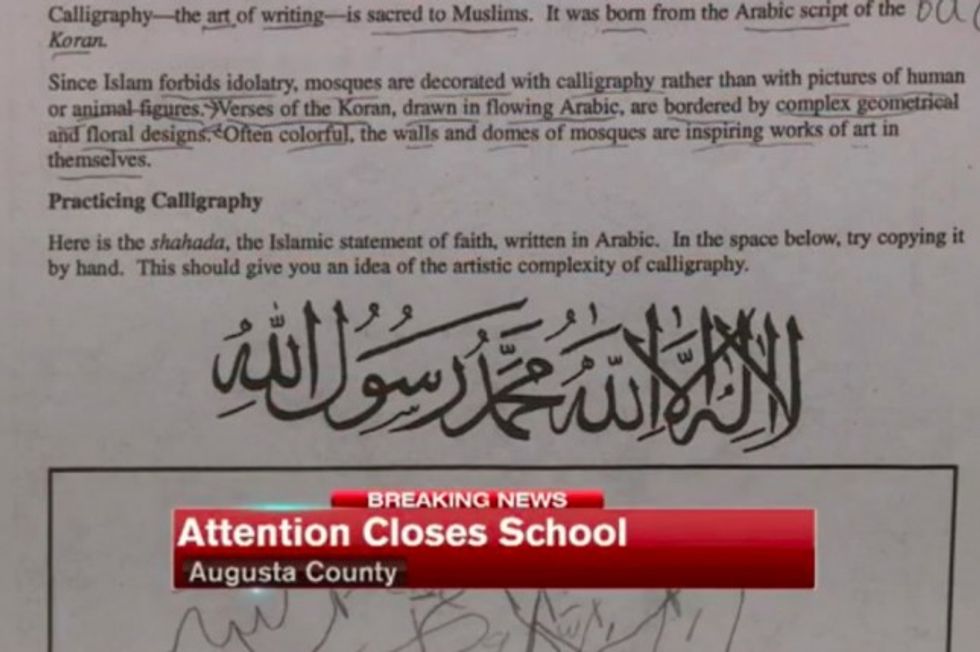 Image source: WHSV-TV
Augusta County Public Schools on Thursday posted this message on its website:
Following parental objections to the World Geography curriculum and ensuing related media coverage, the school division began receiving voluminous phone calls and electronic mail locally and from outside the area. As a result of those communications, the Sheriff's Office and the school division coordinated to increase police presence at Augusta County schools and to monitor those communications. The communications have significantly increased in volume today and based on concerns regarding the tone and content of those communications, Sheriff Fisher and Dr. Bond mutually decided schools and school offices will be closed on Friday, December 18, 2015. While there has been no specific threat of harm to students, schools and school offices will be closed Friday, December 18, 2015. All extra-curricular activities are likewise cancelled for tonight, Thursday, December 17, through the weekend. We regret having to take this action, but we are doing so based on the recommendations of law enforcement and the Augusta County School Board out of an abundance of caution.

Finally, the Augusta County School Board and Dr. Bond appreciate parents bringing concerns directly to our attention, and a constructive and respectful dialogue between school and community is always welcome. As we have emphasized, no lesson was designed to promote a religious viewpoint or change any student's religious belief.  Although students will continue to learn about world religions as required by the state Board of Education and the Commonwealth's Standards of Learning, a different, non-religious sample of Arabic calligraphy will be used in the future.
Numerous parents told WHSV-TV on Thursday they were asked to pick up their children as soon as possible from schools.
Parents said students at Riverheads High School weren't given the translation of the calligraphy assignment, which was in Arabic and handed out during a world geography class.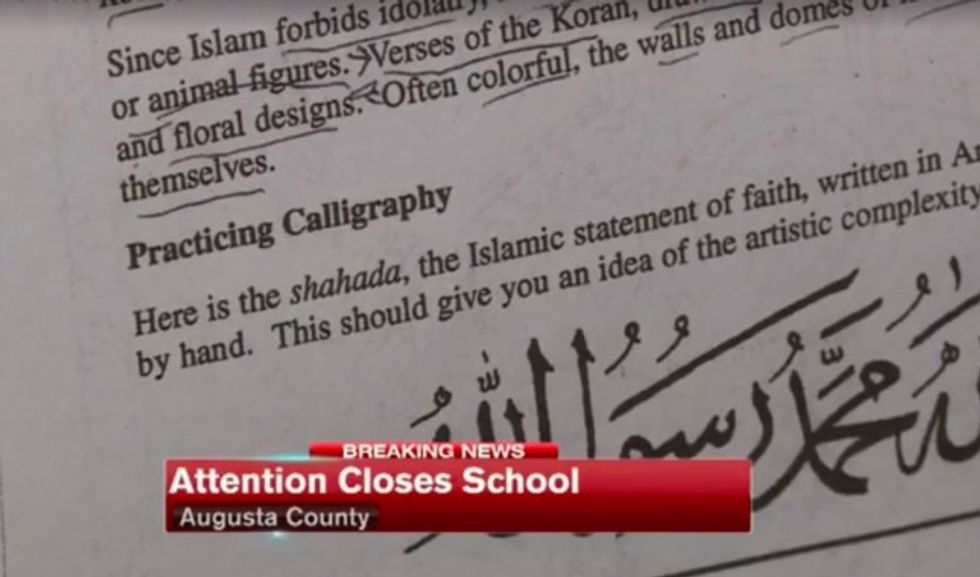 Image source: WHSV-TV
The situation first made headlines after some students refused to take part in the assignment and parents subsequently caught wind of it. Some families are reportedly so angry that they will not permit their kids to complete the course with the teacher in question.