Wednesday afternoon, en route to cover another story, we came upon a car burning on the side of the road in Wilmington, Delaware. TheBlaze arrived on the scene before police and fire departments.
We recorded raw footage, catching the fire destroying the entire front end of the vehicle, exploding tires and air bags as we watched.
Fortunately, the car's owner was able to exit the vehicle uninjured just as the fire started.
The driver (who wished to be anonymous) told TheBlaze her car started sputtering without warning, "I noticed when I hit the gas, it wouldn't take the gas...wouldn't go any faster."
She noticed the "check engine light" and car's oil warning light came on. The driver immediately pulled off the road and another driver noticed the flames and shouted to her to get out of the car and get away from it, "It's on fire and going to blow!" the man reportedly said.
TheBlaze/Mike Opelka
The fire was totally extinguished within minutes of the arrival of the Claymont Fire Company. However, significant damage had already been done and the car appears to be a total loss.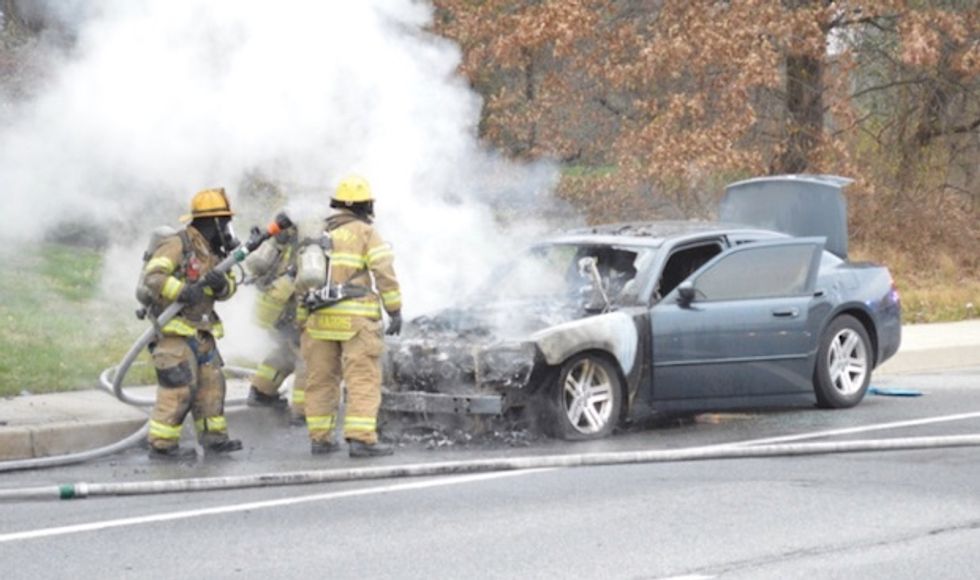 TheBlaze/Mike Opelka
Watch the scene.
__
Follow the author of this story on Twitter and Facebook: