New York State lawmakers introduced legislation Thursday that would change the name of an undeveloped state park named for Donald Trump in New York City's northern suburbs.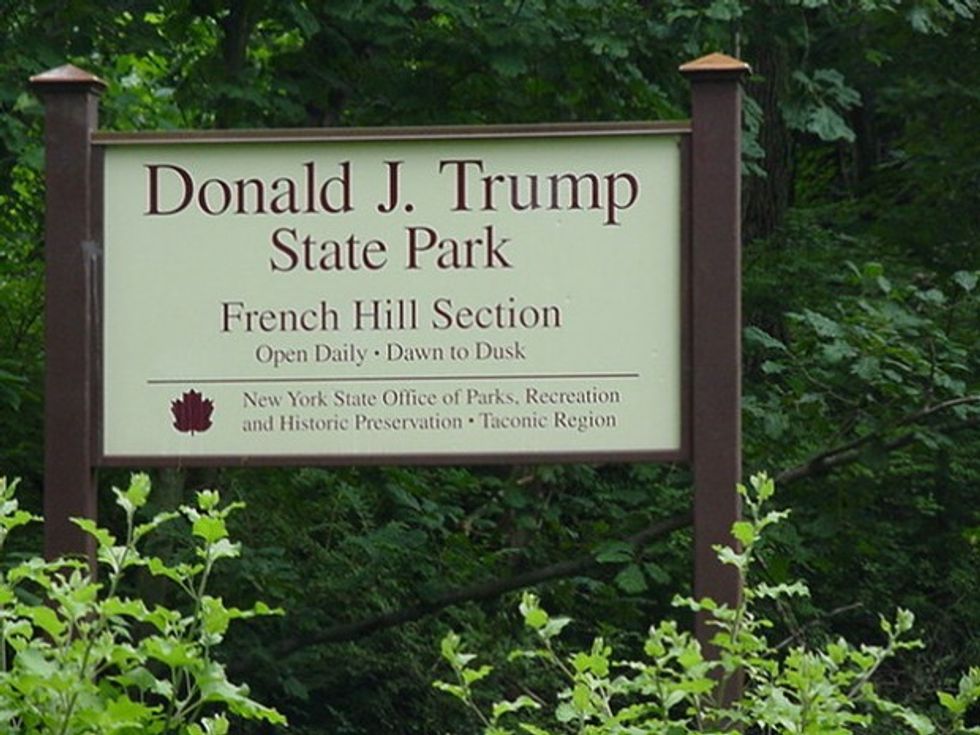 Image via Buzzfeed/Alan Kroeger
The legislation, which was titled the "Anything But Trump Act," was introduced by New York State Assemblyman Charles Lavine (D) and New York State Sen. Daniel Squadron (D).
In an open letter sent to New York Gov. Andrew Cuomo (D), Lavine said the 436-acre park, which currently is called "Donald J. Trump" park, should be renamed because "it is our national and state responsibility to act" when "demagogues spew hate."
My open letter to Gov. Cuomo suggests the name of Donald J. Trump State Park is changed to honor a Muslim War Vet. https://t.co/9xPnjKbG2h

— Charles D. Lavine (@Charles D. Lavine) 1450289741.0
"It is time the State of New York sends a message to Donald Trump that his hate speech is not welcome in our great state," Lavine said in a statement, according to the New York Daily News. "I am confident that the Governor will take our letters into consideration. If he is unable to act, then we are prepared to move forward with this legislation."
Squadron echoed Lavine's sentiment. "The rhetoric and discriminatory proposals we've seen from Mr. Trump don't belong in the presidential election, and don't belong in New York State Parks," he said in a statement. "He has dishonored the state, and should not be honored with a state park named for him. I look forward to working with Assemblymember Lavine on this issue."
Instead, Lavine says the park should be renamed after Peter Salaam, an American Muslim who fought during the Revolutionary War.
"Renaming the parkland after a true American patriot is fitting and will send the world a powerful message of the values we Americans and New Yorkers stand for," Lavine said in his letter to Gov. Cuomo.
According to Buzzfeed, the proposal also has the support of United States Congressman Sean Maloney (D-N.Y.), who's district includes much of the park.
Trump donated the land to the state in 2006 after plans for a golf course folded due to "environmental concerns." However, due to lack of funding, the state stopped funding the park in 2010.
—
Follow the author of this story on Twitter and Facebook:
[facebook //www.facebook.com/plugins/like.php?href=