Sen. Ted Cruz (R-Texas) was again confronted on his 2013 immigration position Friday, being grilled for nearly 10 minutes by Fox News Channel host Greta Van Susteren.
In his lengthy "On the Record" interview, Cruz referenced an exchange on immigration he had with Sen. Marco Rubio (R-Fla.) at Tuesday night's GOP debate. In that exchange, Rubio confronted Cruz on stage and noted the Texas senator previously seemed to support for legalization of those in the U.S. illegally.
Van Susteren followed up on this in her interview Friday.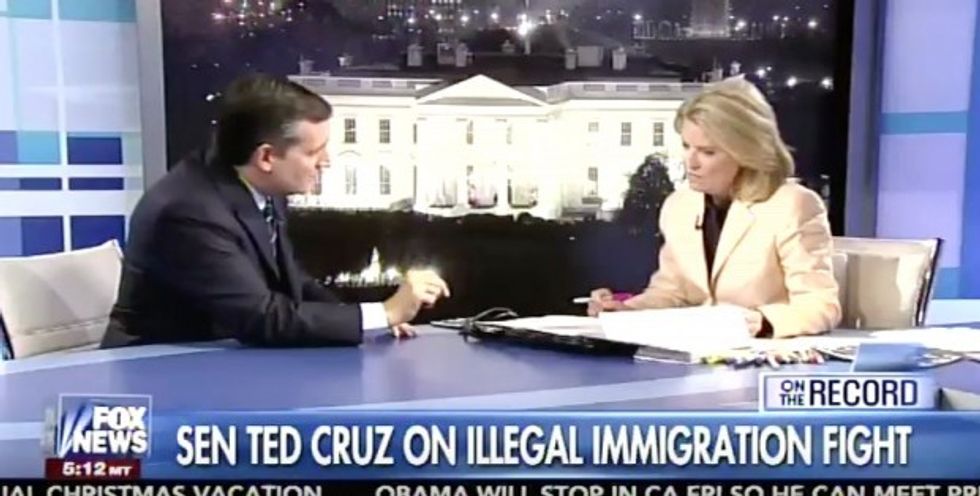 Image source: Screen grab
"You supported not citizenship, but giving essentially —," she said.
Cruz interjected, anticipating the rest of her sentence: "Nope, that is factually incorrect."
"Well, let me read you a letter that you wrote...written on June 4, 2013, signed by you. And it talks about how critically the committee rejected, that would be the committee you're trying to get this amendment to, rejected the Cruz amendment that would have allowed immigrants here to obtain legal status," Van Susteren said. "That's not true?"
Cruz responded by noting that the letter was authored by not only him, but several other senators. He added that he introduced an amendment stripping a pathway to citizenship from the "gang of eight" so-called amnesty bill.
"They would have a legal status," Van Susteren said.
"No, it did not say they would have a legal status," Cruz shot back.
"Am I reading this wrong?" Van Susteren asked.
Watch the Exchange: 
—
Follow the author of this story on Twitter and Facebook: