Regarding monitoring of social media, President Barack Obama reminded reporters that it wasn't that long ago the public was worried about too much government surveillance.
"Keep in mind, it was only a couple of years ago where we were having a major debate about whether the government was becoming too much like big brother," Obama said at his year-end press conference Friday.
"Overall, I think we've struck the right balance in protecting civil liberties and making sure that U.S. citizens' privacy is preserved, that we are making sure that there's oversight to what our intelligence agencies do, but we're going to have to continue to balance our needs for security with people's legitimate concerns about privacy," Obama added.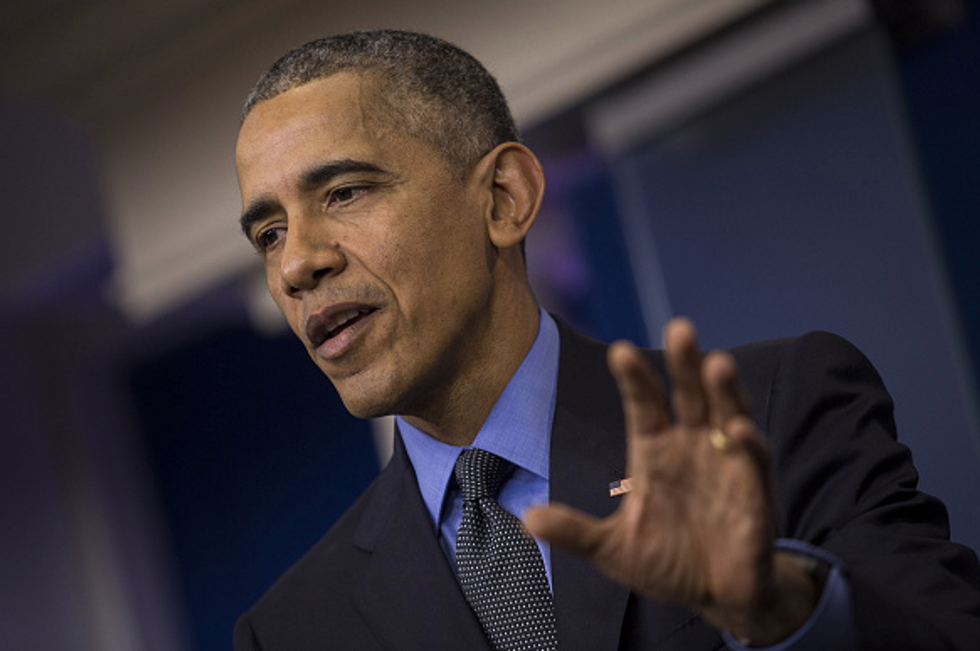 President Barack Obama speaks during a news conference in the Brady Press Briefing Room of the White House in Washington, D.C., U.S., on Friday, Dec. 18, 2015. (Drew Angerer/Bloomberg via Getty Images)
In 2013, there was a public uproar over revelations of the National Security Agency's meta data gathering. It prompted Congress and Obama to agree to a law rolling back the program.
The Obama administration has taken a swift criticism after reports this week that Tashfeen Malik, the female San Bernardino terrorist, passed three background checks to obtain a U.S. visa despite supporting violent Islamic extremism on social media.
Homeland Security Jeh Johnson has said monitoring social media poses privacy issues. Meanwhile, this week Sen. John McCain (R-Ariz.) introduced a bill to require the Deparmtent of Homeland Security to monitor social media as part of background checks for those entering the country.
Obama said Friday it was a difficult issue to tackle.
"The issue of reviewing social media for those who are obtaining visas I think may have gotten garbled a little bit because there may be – it's important to distinguish between posts that are public, social media on a Facebook page, versus private communications through various social media or apps and our law enforcement and intelligence professionals are constantly monitoring public posts and that is part of the visa review process that people are investigating what individuals have said publicly and questioned about any statements that they may make," Obama said. " But if you have a private communication between two individuals, that's harder to discern."