President Barack Obama had kind words for House Speaker Paul Ryan (R-Wisc.) over the negotiations of the $1.1 trillion omnibus spending bill, which he signed Friday before departing for two weeks.
"I think that Speaker Ryan deserves a role in that, I will say in his interactions with me, he has been professional he has reached out to tell me what he can do and what he cannot do," Obama said Friday during his year-end press conference.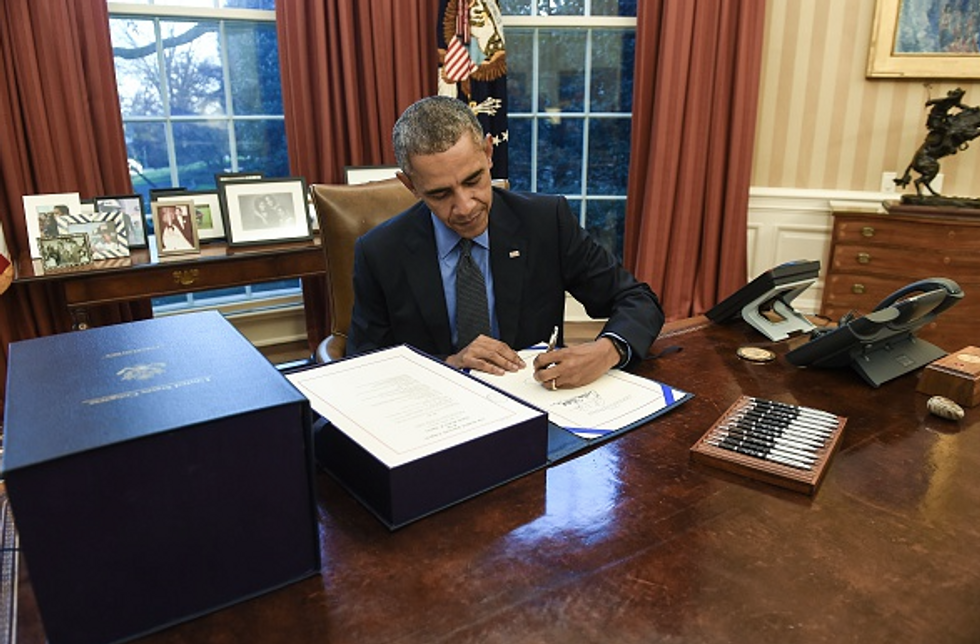 President Barack Obama signs a compromise $1.1 trillion spending package that funds the government through September 2016 in the Oval Office at the White House in Washington, DC, on December 18, 2015.   NICHOLAS KAMM/AFP/Getty Images)
"I think it's a good working relationship. We recognize that we disagree on a whole bunch of other stuff and have fundamentally different visions for where we want to move the country," Obama continued.
Obama called the bill, "A good win."
Obama added regarding Ryan, "I think he is respectful ofhe process and respectful of how legislation works. So kudos to him as well as all the leaders and appropriators who are involved in this process."
—