NEW YORK (AP) — "Star Wars: The Force Awakens" has already surpassed $100 million in North America and $250 million globally, setting it up for a record-breaking weekend.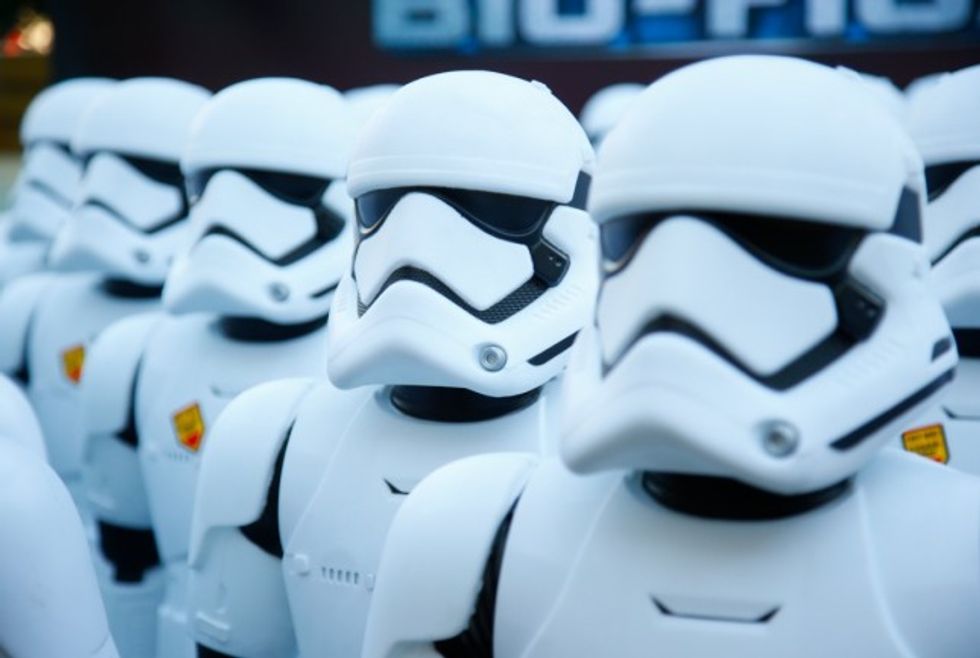 Over 100 JAKKS BIG-FIGS Stormtrooper action figures are seen as a part of an installation at The Americana at Brand for the opening of Star Wars: The Force Awakens, Thursday, Dec. 17, 2015, in Glendale, Calif. (Image source: Danny Moloshok/Invision for JAKKS/AP Images)
The Walt Disney Co. on Saturday said the film made an estimated $120.5 million from Thursday night previews and opening day Friday. That smashes the previous opening day record of $91.1 million, set by 2011's "Harry Potter and the Deathly Hallows, Part 2." (Studios count Thursday night grosses as part of opening day.)
Disney is projecting a domestic weekend total of around $220 million, which would surpass the record $208.8 million of "Jurassic World." It's a type of release never before seen in December, where the previous top opening was 2012's "The Hobbit: An Unexpected Journey" with $84.6 million. The latest "Star Wars" is playing in 4,134 North American theaters, the widest December release ever.
But "The Force Awakens" is riding a wave of hype, nostalgia and positive reviews from critics and fans alike. J.J. Abrams' seventh chapter in George Lucas' saga has earned an A CinemaScore from moviegoers who have flooded theaters nationwide. Some $100 million in advance tickets were sold for the movie's Thursday night debut.
Since beginning its overseas rollout Wednesday, "The Force Awakens" has made an estimated $129.5 million internationally.
"Jurassic World," an unexpected sensation in June, also holds the global weekend opening record with $524.9 million, a number "The Force Awakens" could well exceed.