Sen. Ted Cruz (R-Texas) said that a compromise on the 11 million undocumented people in the U.S. was possible during an interview with CBS in 2013.
As Cruz and Sen. Marco Rubio (R-Fla.) continue to hit each other over immigration while battling for the Republican presidential nomination, National Review uncovered an interview with CBS News from April 2013 during which Cruz discussed his amendment to the contentious Gang of Eight bill. According to Cruz, his amendment was meant to kill the legislation, but Rubio has said otherwise.
"I think there could probably be a compromise on that...if the path to citizenship was taken off the table," Cruz told CBS' Jan Crawford after she asked about his plans regarding the 11 million people who were in the country illegally.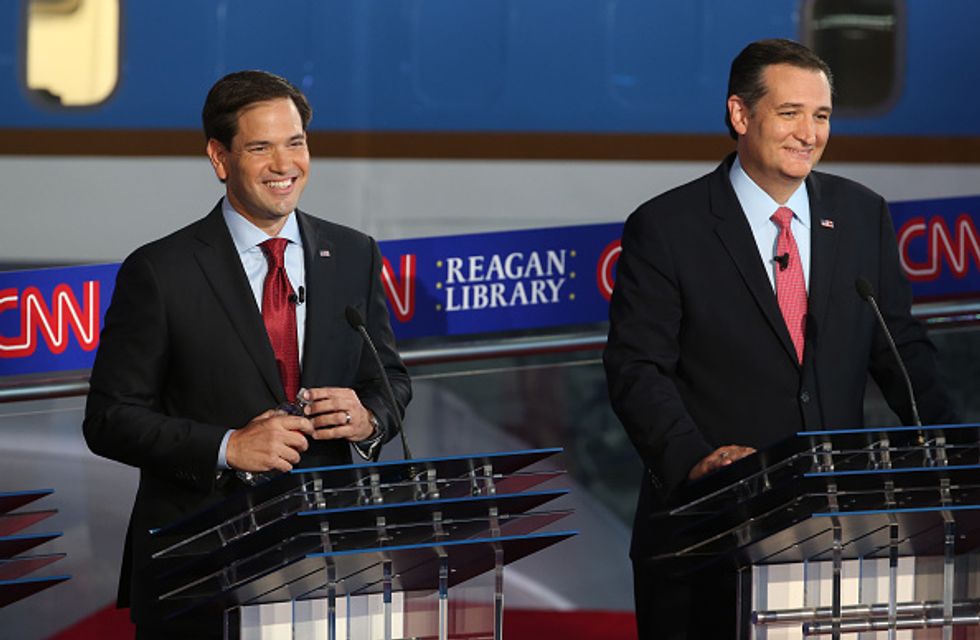 Republican presidential candidate Marco Rubio and Ted Cruz onstage during the Republican presidential debates on September 16, 2015. (Photo by Justin Sullivan/Getty Images)
As National Review reported, Cruz also slammed President Barack Obama on his lack of wanting the passage of an immigration bill.
"I think the President wants to campaign on immigration reform in 2014 and 2016," Cruz said. "And I think the reason that the White House is insisting on a path to citizenship for those who are here illegally is because the White House knows that insisting on that is very likely to scuttle the bill."
Rick Tyler, Cruz's national spokesman, told National Review that Cruz was simply using the bill's rhetoric in order to push for his amendment during the interview.
"That doesn't mean that he would give them a path to legalization, he would not," Tyler said. "He never supported the underlying bill, but he was using that amendment to show that this whole thing was a farce, and it worked."
According to Real Clear Politics' aggregated polling data, Cruz is polling in second at 16.6 percent with Rubio right behind at 12.4 percent.
(H/T: National Review)