CBS News is being accused of editing out negative commentary from a Muslim-American panel in a response to GOP presidential frontrunner Donald Trump.
According to Intercept, CBS is specifically accused of editing out negative commentary regarding the U.S. Two Muslim Americans who participated in the panel told Intercept that their critiques of U.S. militarism, surveillance and entrapment were edited out of the discussions aired.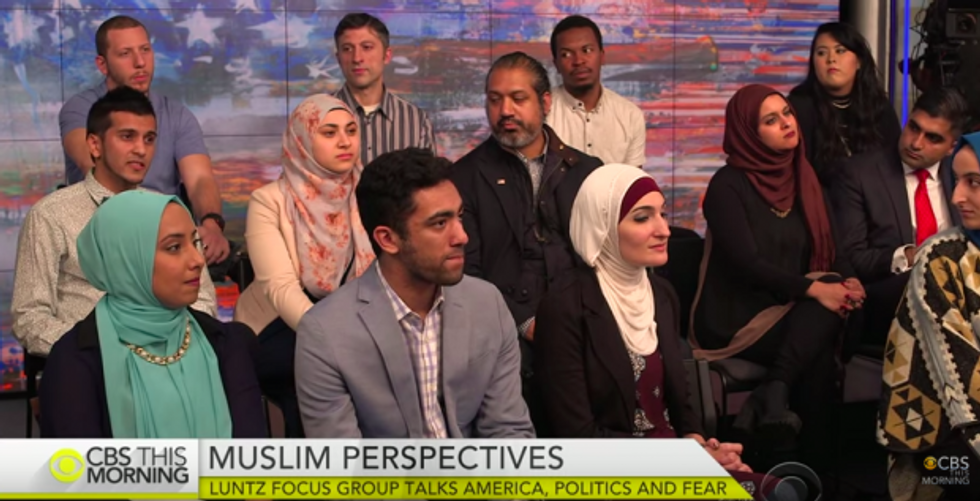 Image source: CBS News
The two unidentified Muslim Americans also accused pollster Frank Lutz, who worked with CBS on the project, of silencing group members who criticized perceived discriminatory governmental policies.
In a lengthy Facebook post, writer Sarah Harvard, who participated in the group, said:
[Luntz] also had silenced me and other participants who have routinely brought up the fact the government has enacted in state violence against the Muslim community — whether that may be through entrapment cases and surveillance programs — and our concerns about institutional racism. He shut me down when I said that President Obama and Hillary Clinton has killed many Muslims under the administration when we were discussing Trump, and ironically for a GOP strategist, he shut me down when I talked about how Democrats have enacted some of the most deadliest and discriminatory policies against Muslims. He also decided to stop letting me speak when I started talking about how Muslims should start focusing on combatting government policies rather than rushing to condemn terrorism or Islamophobia exclusively. They also cut out portions of where participants talked about media accountability when discussing Islam.

I felt that as a Muslim-American participant in the focus group, he tried to put all of us into boxes to fit their narrative. That's something I wasn't going to allow to happen. It could also be a reason why the only three Muslim women who didn't wear the headscarf was seated outside of the camera shot or why the two black men in the panel barely got speaking time.
Harvard accused Luntz of having an agenda as the edited version aired was about "proving our American identity, condemning terrorism, and Trump's bashing of Muslim-Americans."
"I'm sick and tired of Muslim-Americans being perceived as those who are victimized or as the oppressor," Harvard wrote. "I'm not here to beg people to love me or love Muslims. I love myself. I'm proud to be a Muslim. I want that love to spread throughout the entire country and I want Muslim-Americans to become more vocal about condemning the government who has made this country far less safe, free and prosperous for all of us."
Intercept reported that Luntz said he was "trying to be diplomatic."
"I did not push as much as I normally do in these sessions, and the reason why is because I wanted the voice to be unedited," he said.
Read Harvard's commentary on the panel below as well as watch the CBS clip that aired.
(H/T: Intercept)