Fact-checking website PolitiFact announced its "Lie of the Year" Monday, giving the title to Republican front-runner Donald Trump for not just one lie, but a myriad of mistruths.
Typically, PolitiFact announces just one "lie of the year," but according to their announcement, each of the contenders for this year's "honor" came from the billionaire businessman. However, the website said it was too difficult to narrow Trump's falsehoods down to just one, so they "rolled them into one big trophy."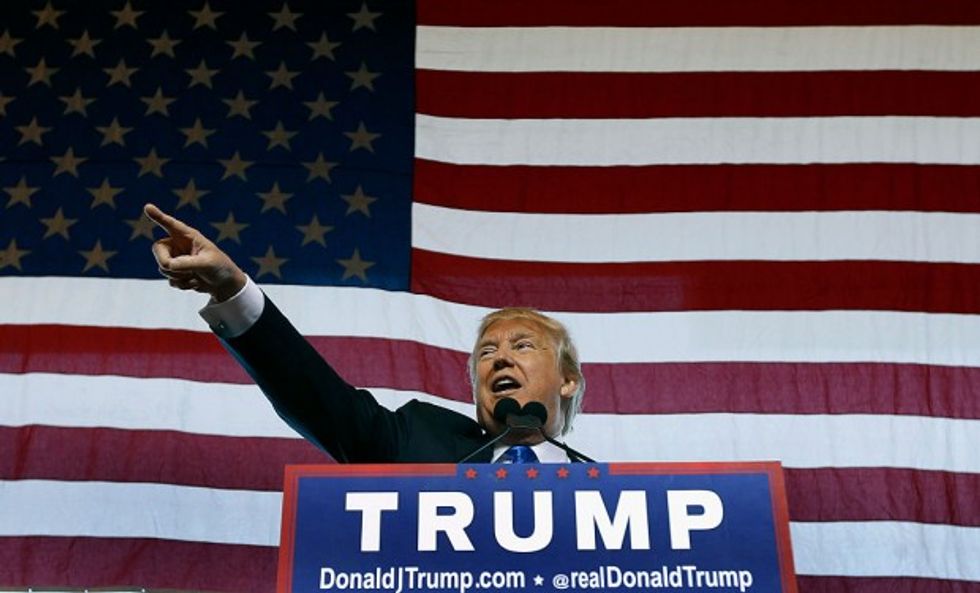 Donald Trump speaks to guest gathered during a campaign event at the International Air Response facility Dec. 16. (Getty Images/Ralph Freso)
The three most "pants on fire" statements from Trump in 2015 according to PolitiFact are:
• Trump's claim that thousands of Muslims in New Jersey celebrated just hours after the attacks on 9/11;

• Trump's claim that the Mexican government sends the "bad ones" to the United States; and

• Trump's claim that "16 percent of whites are killed by whites" while "81 percent of whites are killed by blacks."
In addition, of the 77 Trump statements that PolitiFact fact-checked this year, 76 percent of them were deemed "mostly false" or worse — "pants on fire."
In their announcement, PolitiFact noted that when the real estate mogul is confronted with his dishonesty, he "offers flimsy explanations and suggests he shouldn't be held accountable — or simply insists he's right."
Michael LaBossiere, a philosophy professor at Florida A&M University, told PolitiFact that Trump has "perfected the outrageous untruth as a campaign tool."
"He makes a clearly false or even absurdly false claim, which draws the attention of the media. He then rides that wave until it comes time to call up another one," LaBossiere added.
Still, despite his dishonestly, Trump continues to lead the race for the 2016 Republican nomination. As of Monday, Trump held a 17-point lead over second-place Texas Sen. Ted Cruz, 34 percent to 17 percent, according to the Real Clear Politics national average.
—
Follow the author of this story on Twitter and Facebook:
[facebook //www.facebook.com/plugins/like.php?href=