On Saturday, former Secretary of State Hillary Clinton again justified the 2011 U.S. policy of regime change in Libya, citing, at least in part, the fact that dictator Moammar Gadhafi had killed Americans.
"We have to continue to do what is necessary when someone like Gadhafi, a despot with American blood on his hands, is overturned," Clinton said during the weekend's Democratic presidential debate in Manchester, New Hampshire. "But I'll tell you what would have happened if we had not joined with our European partners and our Arab partners to assist the people in Libya, you would be looking at Syria."
Clinton made a similar point in a previous Democratic debate, when she asserted, "We had a murderous dictator, Gadhafi, who had American blood on his hands."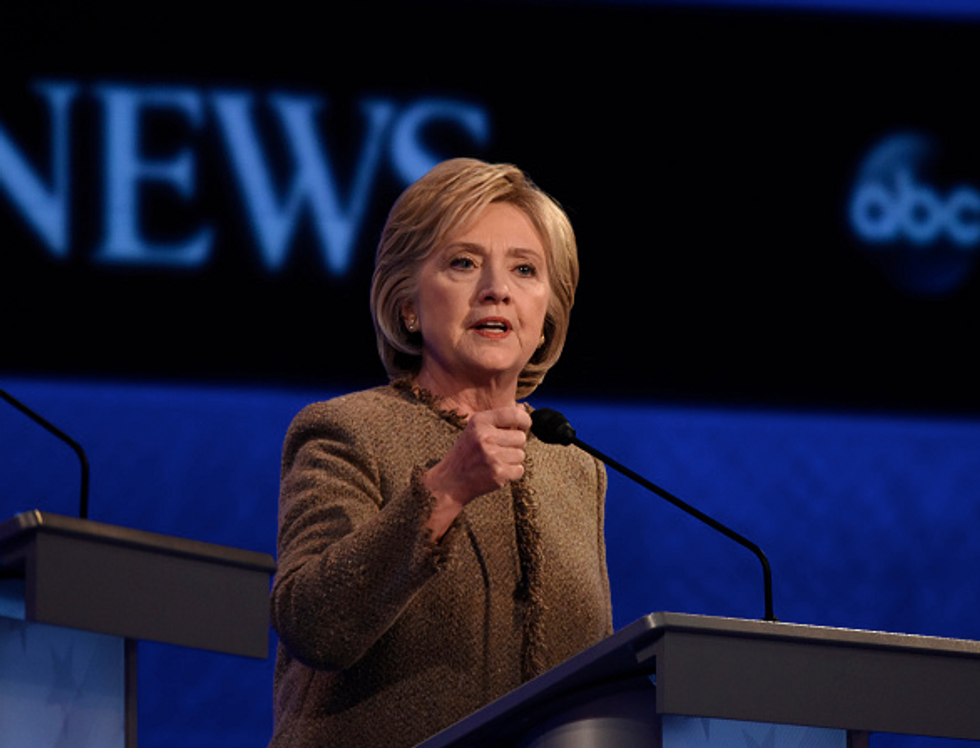 (Ida Mae Astute/ABC via Getty Images)
But early in the administration, Clinton had championed an allegiance with the Libyan regime under Gadhafi, during a time when some of the major U.S. corporations doing business in Libya were also donating heavy sums to the Clinton Foundation.
In April 2009, Clinton met with the tyrant's son, Mutassim Gadhafi, then Libya's national security adviser, at the State Department and announced, "We deeply value the relationship between the United States and Libya."
That changed after the Libyan civil war, when pressure from some European and Arab allies prompted the Obama administration to take military action in Libya. After this, Clinton declared, "We came, we saw, he died," in reference to Moammar Gadhafi.
Prior to the Libyan civil war, financial companies, oil companies, Coca-Cola and others with Libyan contracts gave generously to the Clinton Foundation.
Among these was Deutsche Bank, which gave between $250,000 and $500,000 to the Clinton Foundation, according to the foundation website. Separately, Deutsche Bank America contributed a similar amount to the foundation.
Last month, Deutsche Bank agreed to pay a $258 million fine as part of a settlement with federal regulators for doing business in countries the U.S. government has deemed havens of potential terrorist financing, which included Gadhafi's Libya, Iran, Syria and Sudan.
The Coca-Cola company contributed between $5 million and $10 million to the Clinton Foundation, while separately the Coke Foundation contributed another $1 million to $5 million, according to the Clinton Foundation website.
It was not until 2003, when Gadhafi announced he was abandoning ambitions for nuclear weapons, that Coca-Cola considered setting up shop in Libya. A new Coca-Cola bottling plant opened in Libya in 2005.
Following Gadhafi's 2003 announcement, U.S.-Libyan relations thawed significantly. The Bush administration took Libya off the state sponsor of terrorism list, which allowed some sanctions to be lifted — increasing business interaction between the countries. Then-Secretary of State Condoleeza Rice met with Moammar Gadhafi in 2008. So the April 2009 meeting between Clinton and Gadhafi's son wasn't a radical departure from previous U.S. policy.
However, the Clinton Foundation has faced continued questions on multiple fronts regarding Clinton's time at the State Department and her presidential campaign.
The Clinton campaign did not respond to inquiries from TheBlaze for this story.
Exxon-Mobile donated between $1 million and $5 million and Chevron gave between $500,000 and $1 million to the Clinton Foundation, while oil companies BP, Conoco-Phillips, Chesapeake Energy and Occidental Petroleum, each donated between $10,000 and $25,000 to the Clinton Foundation. These companies were eager to move business into Libya after sanctions were lifted; however, they were caught in the crosshairs of the civil war and some of them departed.
Citigroup contributed between $1 million and $5 million to the Clinton Foundation. The Libyan government, including the Libyan Investment Authority, reportedly banked with Citigroup.
Another major financial institution, HSBC, gave between $1 million and $5 million to the Clinton Foundation. The Libyan Investment Authority reportedly had nearly $300 million in HSBC when Gadhafi still ran the country.
Goldman Sachs, which reportedly invested and lost $1.3 billion of the Gadhafi's regime's money, had given between $1 million and $5 million to the Clinton Foundation.
Morgan Stanley, which gave between $100,000 and $250,000 to the Clinton Foundation, also curbed its business with Libya after the international sanctions were imposed in 2011.