According to a German newspaper report Sunday, the Islamic State group has been selling fake passports for up to $1,630 a piece, further fueling concerns about the ability of immigration authorities to stop members of the jihadist group who may try to get into Europe.
Citing Western intelligence sources, Welt am Sonntag reported that the Islamic State may have stolen "tens of thousands" of blank passports in the parts of Syria, Iraq and Libya it has seized.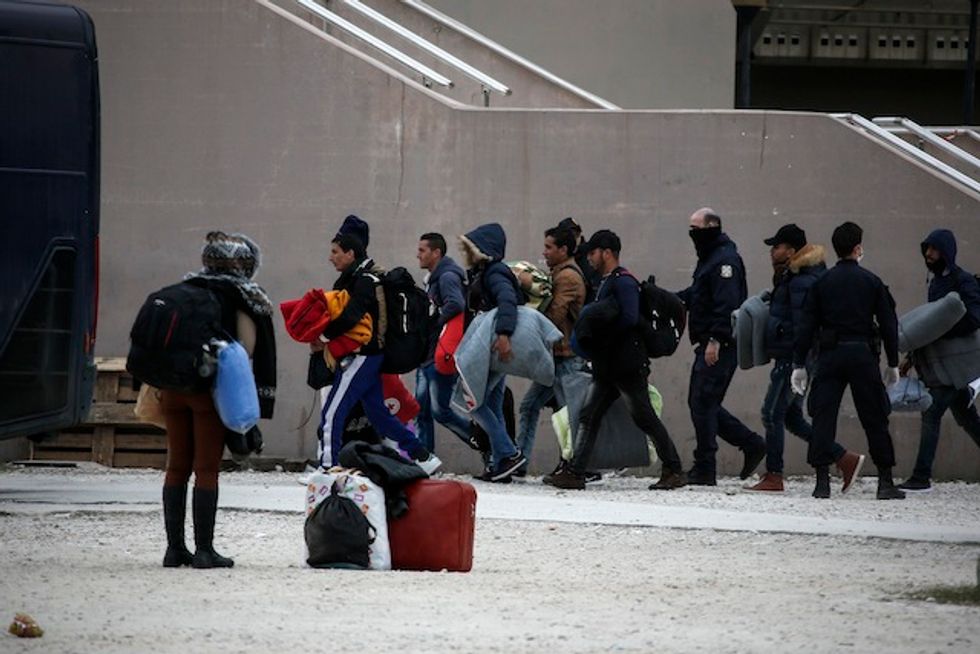 Greek police escort migrants to a van outside a former Olympic indoor stadium in Faliro, southern Athens, on Dec. 16. Hundreds of people have been temporarily housed in the stadium after being removed a few days ago from Greece's northern border with Macedonia, which only allows Syrians, Afghans and Iraqis through on their trek to wealthier European countries — rejecting others as economic migrants who do not merit refugee protection. (AP Photo/Yorgos Karahalis)
Agence France-Presse noted that two of the assailants behind the Paris attacks last month used fake Syrian passports to enter Europe.
Given the current state of chaos in Syria, nobody can guarantee "that documents that look real were actually issued by an official authority," Fabrice Leggeri who heads the E.U. border agency Frontex told Welt.
A spokesman for the German interior ministry concurred.
"In light of the large number of entering migrants, it cannot be ruled out that among them are, for example, criminals, war criminals, members of militant groups or terror organizations or individuals with extremist views," the unnamed spokesman told AFP.
The reported cost of the fake passports tracked with an earlier investigation by Britain's Daily Mail.
Reporter Nick Fagge in September obtained a forged Syrian passport, ID card and driver's license for $2,000.
Many European countries, including Germany, grant refugee status to those arriving from war-torn Syria, but not to economic migrants.
Germany expects more than 1 million migrants to arrive this year.
(H/T: AFP)