A handful of New Jersey police officers and residents residents have contended that Republican presidential candidate Donald Trump's claim of Muslims cheering after the Sept. 11 terrorist attacks were not entirely off-base.
According to an report from NJ.com, found witnesses who, while they did not corroborate Trump's claim that "thousands and thousands of Muslims in Jersey City" cheered during the terrorist attacks, did recall witnessing modest celebrations.
"When I saw they were happy, I was pissed," Ron Knight, 56, told NJ.com. Knight added that he heard shouts of "Allahu Akbar" coming from a crowd of 15 to 20 people on John F. Kennedy Boulevard the morning of the attacks.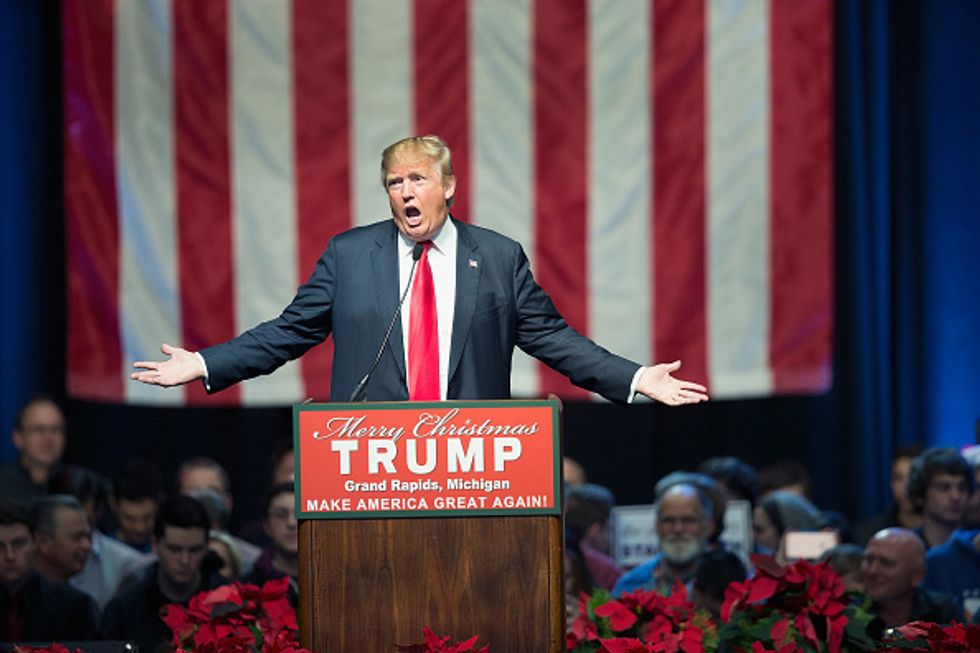 Caption:GRAND RAPIDS, MI - DECEMBER 21: Republican presidential candidate Donald Trump speaks to guests at a campaign rally on December 21, 2015 in Grand Rapids, Michigan. (Photo by Scott Olson/Getty Images)
The celebration occurred near Masjid Al-Salam, the mosque where the "blind sheikh," Omar Abdel-Raham, preached prior to the 1993 World Trade Center bombing, according to the report.
Carlos Ferran, 60, lives in the same building as Knight and also recalled witnessing celebrations.
"Some of them had their hands in the air," Ferran said. "They were happy."
Retired police captain Peter Gallagher said that he cleared a rooftop celebration on top of an apartment building with an unobstructed view of Lower Manhattan just hours after the second tour collapsed. Up to 30 people were on the rooftop celebrating, Gallagher, a sergeant at the time, said. 
"Some men were dancing, some held kids on their shoulders," Gallagher said. "The women were shouting in Arabic and keening in the high-pitched wail of Arabic fashion. They were told to go back to their apartments since a crowd of non-Muslims was gathering on the sidewalk below and we feared for their safety."
NJ.com reported that several of the building's residents were taken into custody and questioned by the FBI following the terrorist attacks, but the reason is unclear.
Other officers spoke to NJ.com on the condition of anonymity and contended that celebrations did indeed take place — albeit, seemingly smaller celebrations than the "thousands and thousands" claim.
One high-ranking officer said the reluctance to publicly speak out about the celebrations stemmed in part from fear of Jersey City Mayor Steven Fulop (D) who has repeatedly and publicly argued that celebrations did not occur.
"I saw it with my own eyes," the officer said. "In the end, police officers are professionals, so we just observed that stuff and sucked it up."
Other people reportedly called to report celebrations at other buildings around the city, according to retired officer Arthur Teeter who worked the radio room at the police station's headquarters on Sept. 11.
"There were enough calls that it was disturbing," Teeter said. "That's the only word I can use."
According to NJ.com, Fulop has remained skeptical, despite the claims from his residents and officers.
"There are no records of this, and over time, what has happened is that it has become urban legend in many cities where people say they heard or saw something," Fulop said. "At the end of the day, the only thing we can go on are facts. There is no media record. There is no police record. There is nothing."
Fulop also criticized Gallagher, saying that if his claim was true, he should have filed a report. "Either he wasn't doing his job, or it didn't happen," he said.
Gallagher said that as no violence occurred on the rooftop party and as it was a very minor incident on one of the busiest days of the year, there was no report necessary. The people on the roof were compliant, he added.
Two former Jersey City police chiefs said that while they were not there at the time and could not confirm nor deny any reports of celebrations, they did say Gallagher is a man of "high integrity," and they would have "no reason to doubt" him.
(H/T: NJ.com)