When a middle school student came to Dalene Bowden and said she was hungry but didn't have the $1.70 to pay for her meal, the food service worker didn't think twice.
She gave her the meal for free.
Bowden's supervisor at Irving Middle School saw the cafeteria worker's deed and reported her. Last week Bowden received a certified letter from the Pocatello/Chubbuck School District in Pocatello, Idaho, that informed her of she was terminated from her job due to theft and "inaccurate transactions when ordering, receiving and servicing food."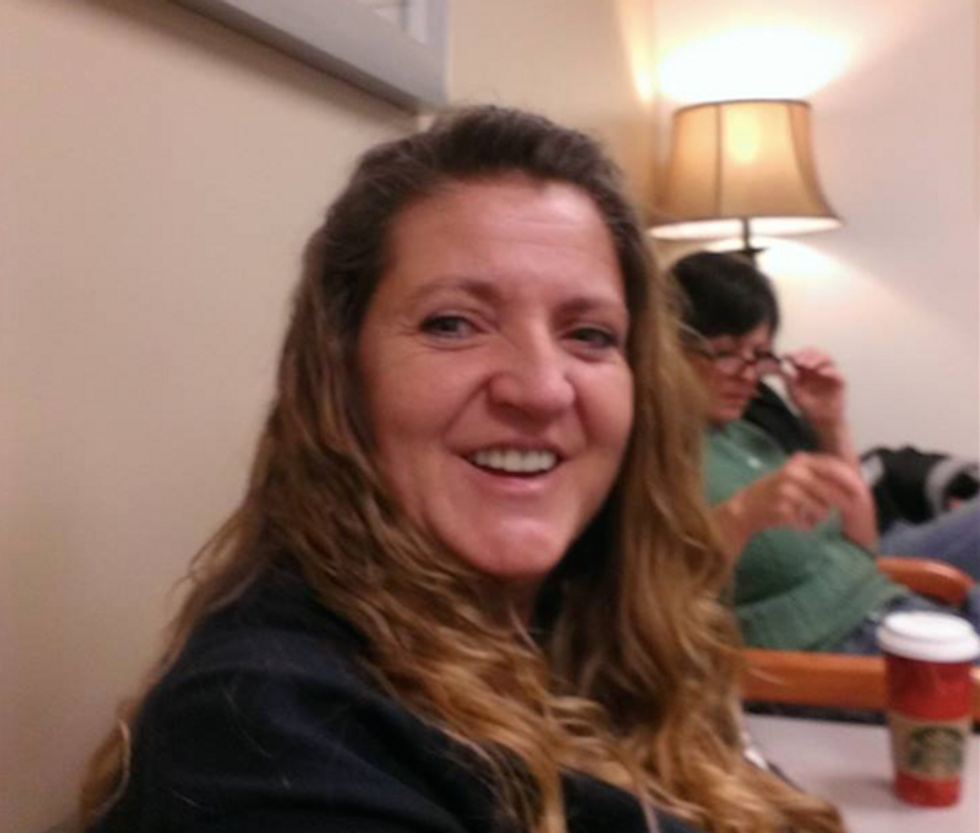 Dalene Bowden, a food service worker, was fired after she gave a hungry 12-year-old student a free lunch. (Image via Facebook/Dalene Bowden)
According to the Idaho State Journal, Bowden offered to pay back the $1.70, but it was to no avail.
"I broke the rules, but I offered to pay for the meal and I don't think I deserved to lose my job over it," she told the Idaho State Journal.
"I know I screwed up, but what are you supposed to do when the kid tells you that they're hungry and they don't have any money," she said.
An online fundraising page has been set up to help Bowden with her finances that has raised more than $1,000. According to a copy of the letter from the school district that Bowden posted on her Facebook page, her final check will be mailed to her within 10 days.
"They couldn't even include my last check," she said.
According to Shelley Allen, spokeswoman for the district,, if a child is over their $11 credit limit and cannot pay for the food, the student is given milk and a peanut butter and jelly sandwich. Bowden contended that the hot lunch tray is dumped in the trash. 
Interim Superintendent Douglas Howell told the State Journal that the district works with students and parents to make sure that children who come from economically disadvantaged homes are able to receive free or reduced lunches. The district also sends food home with students over the weekends if that is needed.
Bowden said that she has never gotten in trouble before in the past three years that she's worked at the school other than a verbal reprimand when she gave a student a free cookie. However, if she faced the same situation again, she would do the exact same thing.
Raushelle Guzman, a parent of two children who attend schools within the district, told State Journal that while she does not know Bowden, she started a petition to get the lunch lady reinstated. As of Wednesday morning, the petition had more than 39,000 signatories — some from as far away as Greece, Slovenia, Chile and Spain.
"I think (Bowden) did the right thing and I think we need to make sure that every child that wants lunch can have lunch," Guzman said. "I think the district's policy needs to be changed. We do not need to humiliate or demean any child or worker in that situation. Students must be provided with an adequate meal."
(H/T: Idaho State Journal)