Somalia's government announced Tuesday that it will ban all Christmas and New Year's celebrations in order to protect the predominantly Muslim country from Islamist militant attacks.
"All events related to Christmas and New Year celebrations are contrary to Islamic culture, which could damage the faith of the Muslim community," Sheikh Mohamed Khayrow, the director general of the religious affairs ministry, told the Daily Star, a Lebanese newspaper, Tuesday.
Sheikh Nur Barud Gurhan, of the Supreme Religious Council of Somalia, said that Christian festivities might provoke extremist groups like Al-Shabab, East Africa's Al-Qaeda branch, based in Somalia.
What about New Year's?
Since Somalia follows the Islamic calendar, the Muslim country does not recognize Janauary 1 as the start of the new year.
"We are warning against the celebration of such events which are not relevant to the principles of our religion," Gurhan told the Daily Star, citing al-Shabab as a credible threat.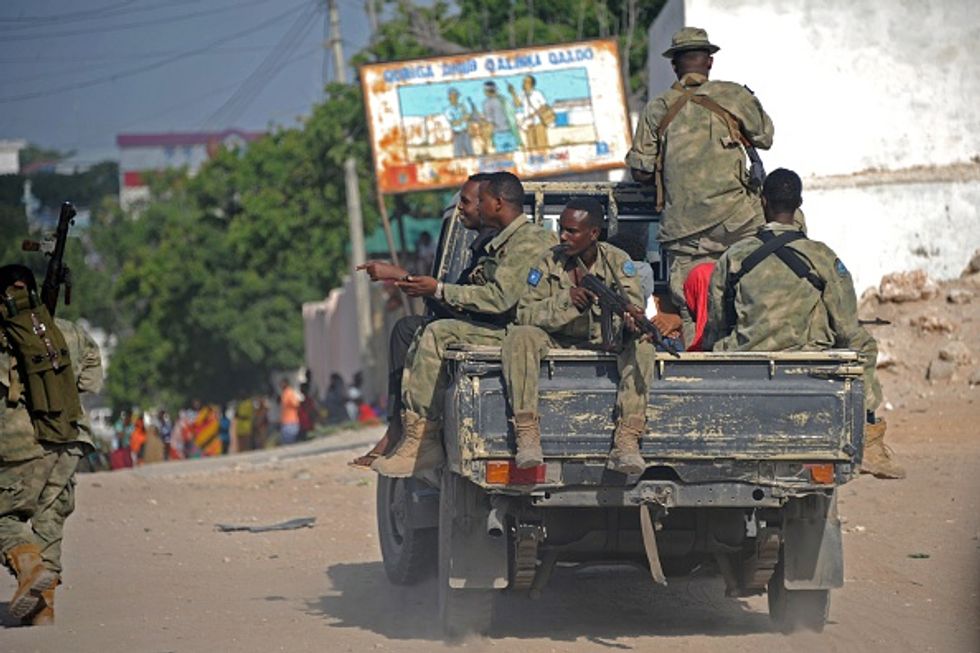 Somali soldiers patrol in a pickup truck near the site where al-Shabab militants carried out a suicide attack against a military intelligence base in Mogadishu on June 21, 2015. (Mohamed Abdiwahab/AFP/Getty Images)
Last year al-Shabab militants attacked Mogadishu airport on Christmas Day, killing at least 12 people.
Somalia is not the first to crack down on Christmas. The South East Asian nation of Brunei announced last year that it would ban citizens and businesses from celebrating Christmas "openly and excessively."
Somalia imposed a similar ban in 2013.
There are almost no Christians left living in Somalia, which officially adopted Shariah law in 2009.
Christians in Indonesia are facing life-threatening religious hostility.
This Christmas season Indonesian authorities dispatched 150,000 police officers to guard churches around North Sumatra province, WORLD Magazine reported.
According to police commissioner Hamam Wahyudi, officers and riot police have been there since mid-December in an effort to protect citizens from Islamic terrorism, which has been prevalent in previous years.
According to WORLD, a series of Christmas Eve church bombings killed 18 people back in 2000. It is believed that the attacks were orchestrated by Islamic terror group Jemaah Islamiyah.
As in Somalia, Christians in Indonesia are the religious minority. Unlike in the U.S., where some Christians were in uproar this year over red coffee cups, Christians in these countries face constant life-threatening persecution.
__
Front page photo courtesy of Shuttershock.
--
Follow Carly Hoilman (@carlyhoilman) on Twitter