In an open letter to white Americans, Emory University professor of philosophy George Yancy asked readers to deeply consider "the ways in which you perpetuate a racist society, the ways in which you are racist."
Yancy called his letter "Dear White America" — published in the New York Times on Christmas Eve — a "gift." In it he also asked readers to not "run to seek shelter from your own racism. Don't hide from your responsibility. Rather, begin, right now, to practice being vulnerable. Being neither a 'good' white person nor a liberal white person will get you off the proverbial hook."
More from Yancy's letter: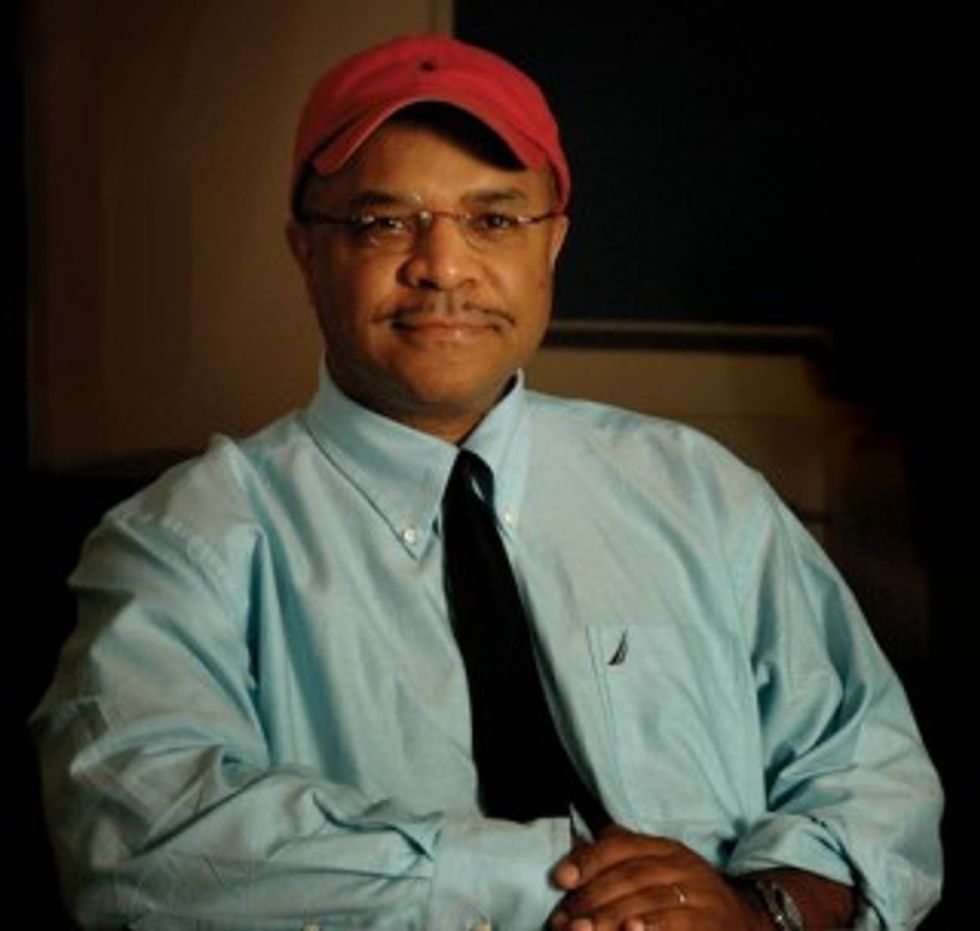 George Yancy (Image source: GeorgeYancy.com)
I can see your anger. I can see that this letter is being misunderstood. This letter is not asking you to feel bad about yourself, to wallow in guilt. That is too easy. I'm asking for you to tarry, to linger, with the ways in which you perpetuate a racist society, the ways in which you are racist. I'm now daring you to face a racist history which, paraphrasing [James] Baldwin, has placed you where you are and that has formed your own racism. Again, in the spirit of Baldwin, I am asking you to enter into battle with your white self. I'm asking that you open yourself up; to speak to, to admit to, the racist poison that is inside of you.

Again, take a deep breath. Don't tell me about how many black friends you have. Don't tell me that you are married to someone of color. Don't tell me that you voted for Obama. Don't tell me that I'm the racist. Don't tell me that you don't see color. Don't tell me that I'm blaming whites for everything. To do so is to hide yet again. You may have never used the N-word in your life, you may hate the K.K.K., but that does not mean that you don't harbor racism and benefit from racism. After all, you are part of a system that allows you to walk into stores where you are not followed, where you get to go for a bank loan and your skin does not count against you, where you don't need to engage in "the talk" that black people and people of color must tell their children when they are confronted by white police officers.

As you reap comfort from being white, we suffer for being black and people of color. But your comfort is linked to our pain and suffering. Just as my comfort in being male is linked to the suffering of women, which makes me sexist, so, too, you are racist. That is the gift that I want you to accept, to embrace. It is a form of knowledge that is taboo. Imagine the impact that the acceptance of this gift might have on you and the world.

Take another deep breath. I know that there are those who will write to me in the comment section with boiling anger, sarcasm, disbelief, denial. There are those who will say, "Yancy is just an angry black man." There are others who will say, "Why isn't Yancy telling black people to be honest about the violence in their own black neighborhoods?" Or, "How can Yancy say that all white people are racists?" If you are saying these things, then you've already failed to listen. I come with a gift. You're already rejecting the gift that I have to offer. This letter is about you. Don't change the conversation. I assure you that so many black people suffering from poverty and joblessness, which is linked to high levels of crime, are painfully aware of the existential toll that they have had to face because they are black and, as Baldwin adds, "for no other reason."
"What I'm asking is that you first accept the racism within yourself, accept all of the truth about what it means for you to be white in a society that was created for you," Yancy wrote. "I'm asking for you to trace the binds that tie you to forms of domination that you would rather not see. When you walk into the world, you can walk with assurance; you have already signed a contract, so to speak, that guarantees you a certain form of social safety."
More from Yancy's letter:
White America, are you prepared to be at war with yourself, your white identity, your white power, your white privilege? Are you prepared to show me a white self that love has unmasked? I'm asking for love in return for a gift; in fact, I'm hoping that this gift might help you to see yourself in ways that you have not seen before. Of course, the history of white supremacy in America belies this gesture of black gift-giving, this gesture of non-sentimental love. Martin Luther King Jr. was murdered even as he loved. [...]

Take one more deep breath. I have another gift.

If you have young children, before you fall off to sleep tonight, I want you to hold your child. Touch your child's face. Smell your child's hair. Count the fingers on your child's hand. See the miracle that is your child. And then, with as much vision as you can muster, I want you to imagine that your child is black.

In peace,

George Yancy
While it appeared many of the more than 1,600 comments gave Yancy's letter a thumbs up, there were detractors.
"The article should have been titled 'Dear Humanity.' Racism isn't endemic to whites only," reader Song Yu commented. "Growing up in the 70s as one of the few Asian Americans in my neighborhood in Connecticut, I occasionally experienced racism from other kids. Particularly relentless badgering about how 'funny' I looked and spoke came from Puerto Rican and Black kids who did not already know me. Desire to feel superior and belonging to a 'better' group is a natural human instinct. We need to fight this instinct through education and awareness. However just picking on the whites is ignoring the true nature of the problem."
Another commenter wrote: "This focus on getting white people to admit their privilege instead of focusing on conversations about how to improve black schools, inner cities and poverty makes no sense. I don't buy all whites are racists but for the sake of argument, suppose the white race (which itself is very diverse you realize?) admits this. Fine, now what? What's next? How do we destroy gangs in the city? How do we ensure all kids get a good education? How do we stop the violence? Those are topics worth a long-winded NY Times editorial. This isn't."
(H/T: New York Times)