On her first Christmas as Miss Universe, Pia Alonzo Wurtzbach had a special message to the woman who wore the crown for only a few brief moments before her.
In a Facebook post, Wurtzbach addressed the awkward controversy of this year's Miss Universe pageant when Miss Colombia Ariadna Gutierrez Arevalo was mistakenly crowned the winner. A few minutes later, host Steve Harvey returned to the stage to admit his mistake and the crown was stripped from Arevalo's head.
"To Ariadna, you are an amazing woman and we are now bonded together forever by a unique experience," Wurtzbach wrote in her Christmas post. "In the last 3 weeks we were together, I saw how strong and beautiful you are inside and out. You represented your country with honor and I know how proud everyone must be of you. Fate has a plan for you, and I'm excited to see what's ahead."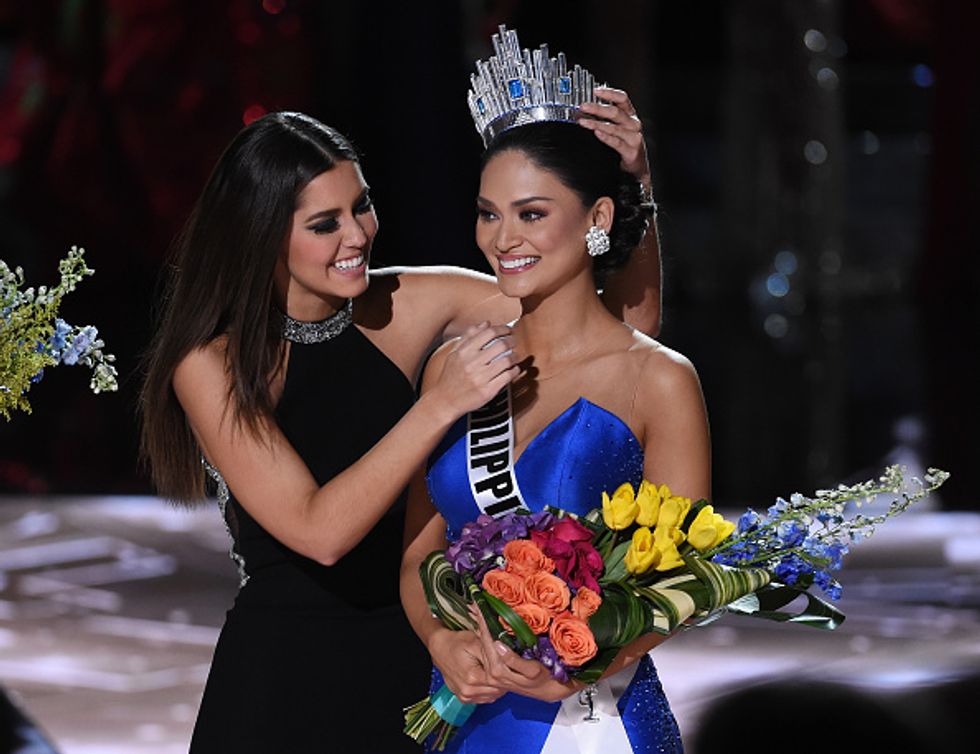 LAS VEGAS, NV - DECEMBER 20: Miss Universe 2014 Paulina Vega (L) hugs Miss Philippines 2015, Pia Alonzo Wurtzbach, after host Steve Harvey mistakenly named Miss Colombia 2015, Ariadna Gutierrez Arevalo (not pictured), the new Miss Universe instead of Wurtzbach during the 2015 Miss Universe Pageant at The Axis at Planet Hollywood Resort & Casino on December 20, 2015 in Las Vegas, Nevada. (Photo by Ethan Miller/Getty Images)
Wurtzbach also encouraged fans of the pageant not to get caught up in the drama.
"The Miss Universe Organization is about uniting empowered women from all over the world," Wurtzbach said. "Arguing and sending hateful messages to each other defeats the whole purpose. You believe in the message of Miss Universe and so do I."
In his own Christmas post, Harvey poked fun at himself when he posted, "Merry Easter, y'all" on various social media accounts.
A few days prior, Arevalo penned a lengthy Instagram post in which she thanked her fans and said she was "able to bring happiness" to her country for the few brief moments she wore the Miss Universe crown.
"Your destiny is written for you," she said. "And my destiny was this."