In an interview with the Washington Post released Monday, Ben Carson described his run for the 2016 Republican presidential nomination as a "pretty brutal process," and said "every job" on his campaign staff is on the table to be cut.
"It's been a pretty amazing year, no question about it. Highs and lows," Carson said. "Obviously, going through a process like this is pretty brutal. Everybody told me that it would be, so that doesn't particularly surprise me."
Speaking to the Post's Robert Costa and Steven Ginsburg, Carson highlighted the fact that his past has been highly scrutinized during his campaign, leading to many small scandals.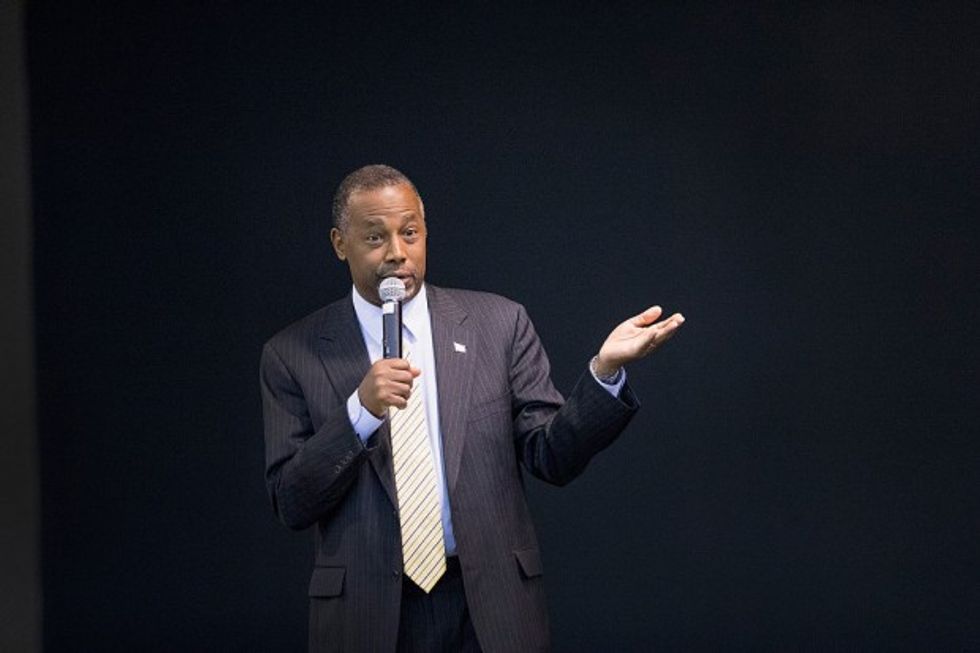 Republican presidential candidate Ben Carson speaks to guests at a barbecue, Nov. 22, 2015. (Getty Images/Scott Olson)
But according to Carson, the scandals weren't actually scandals.
"Of course there are no scandals, which is pretty frustrating for them, I'm sure," he said. "When they couldn't find a scandal, they try to impugn your integrity and say, 'You're a liar.' Just stuff. Then they would put it out there. When it's refuted, they never come back and say, 'Oh, I guess that actually did not happen.' They just go on to the next thing as long as they've figured out a way to hurt you."
When asked by Ginsburg to provide specific examples, Carson explained:
"There have been several, like when they said, 'You never took that class at Yale.' Then when it was found, they said, 'Eh, let's just move on to the next thing.' The West Point story. When they said, 'You never tried to stab anyone, you're kidding.' Then they find a Parade magazine article from 1997 where my mother was talking about it. They go, 'Eh, move on.' It's always 'Move on, whatever.' I guess you can expect that, but it's a little disappointing in terms of the integrity you'd expect to see."
Carson, who's been dropping the polls since a short stint as a frontrunner in early November, said he's rethinking the structure of his campaign.
"I'm looking at every aspect of the campaign right now," he said. "Everything is on the table, every job is on the table. And we're going to analyze it very carefully."
The campaign shift comes as his polling numbers continue to plummet. Once challenging front-runner Donald Trump for the top position among Republicans, Carson has since dropped to fourth in the polling, according to Real Clear Politics, with a national polling average of less than 10 percent.
Still, Carson said he has no thoughts of folding, just a little more than five weeks away from the first ballots being cast.
"Absolutely," Carson told Costa and Ginsburg went asked if he'll still be in the race when Iowa rolls around in February, adding that he's "never once" doubted his campaign.
—