The terror group Boko Haram reportedly killed 16 people, including children, during a Christmas Day raid in Nigeria.
According to the Nigerian national newspaper THISDAY, Boko Haram militants raided the Kimba village, located in southern Borno State, an area controlled by the rebels.
A village resident told THISDAY that the terrorists invaded Friday at around 7 p.m. local time, shooting villagers and setting houses and shops on fire. The militants killed 16 and kidnapped six others.
AFP reported that hundreds of Kimba residents fled to a refugee camp in Biu nearby, which is already packed with people who have fled Boko Haram.
"Not a single house was spared in the arson," Musa Suleiman, a civilian vigilante who is helping the military in its campaign against Boko Haram, told AFP.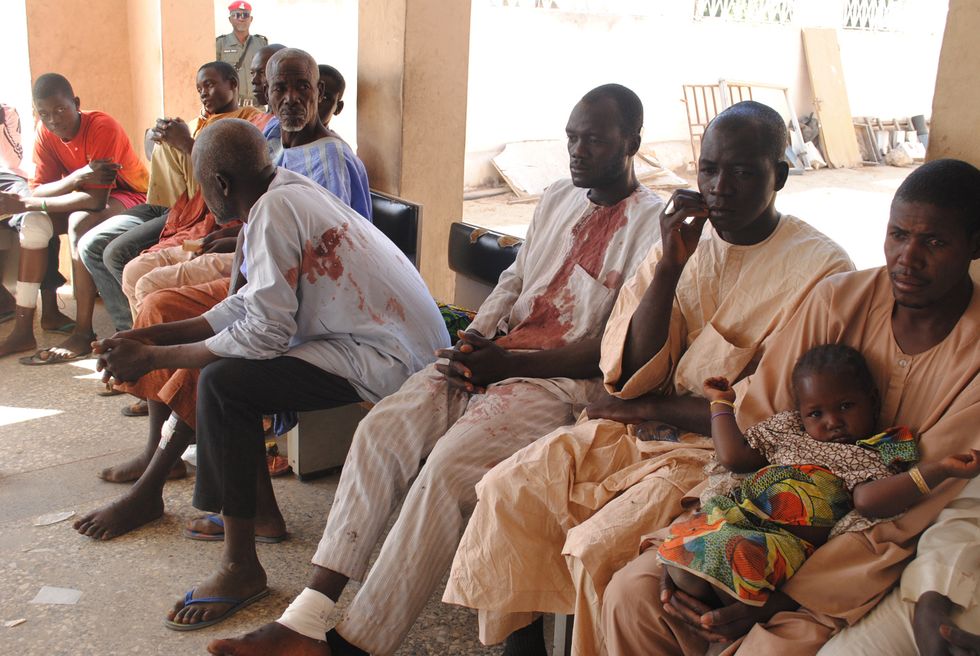 Victims of a Boko Haram attack wait for treatment at a hospital in Maiduguri, Nigeria Monday, Dec. 28, 2015. (AP Photo/Jossy Ola) 
The militant group, which has pledged allegiance to the Islamic State, has a track record of attacks on churches and Christians on Christmas Day for several years in a row.
One of the deadliest Christmas Day killings occurred in 2011, when the terrorist group bombed of St. Theresa Catholic Church in Madalla, killing 37.
On Monday, Boko Haram militants struck the northeastern Nigerian city of Maiduguri for the first time in months, the Associated Press reported. The terrorists used rocket-propelled grenades and multiple suicide bombers, witnesses said.
At least 50 people were killed.
Another twin suicide bombing that killed at least 30 people occurred just 95 miles away, in Madagali. A witness named Danladi Buba said two women detonated suicide bombs at a market near a busy bus station at about 9 a.m.
Victor Ezugwu, the officer commanding in northeast Adamawa State, confirmed the attack but said casualties are still being determined, the AP reported.
Boko Haram has been warring against the Nigerian government for almost six years, killing over 20,000 people in acts of terror such as village raids, shootings and suicide bombings.
According to the Christian Post, President Muhammadu Buhari has vowed to eliminate the terror group, but the deadline he set earlier in 2015 for achieving this mission by December has passed.
---