The Democratic and Republican frontrunners have equal levels of support nationally, according to a new Rasmussen poll.
If Hillary Clinton and Donald Trump were the nominees for their respective parties and the election were held today, 37 percent of likely U.S. voters would vote for Clinton, while 36 percent would vote for Trump.
The poll has a margin of error of three percent.
But a significant number of likely voters – 22 percent – said they would select a third-party candidate if Clinton and Trump were the nominees of the two major parties. An additional five percent of likely voters are undecided about how they would vote in that hypothetical scenario.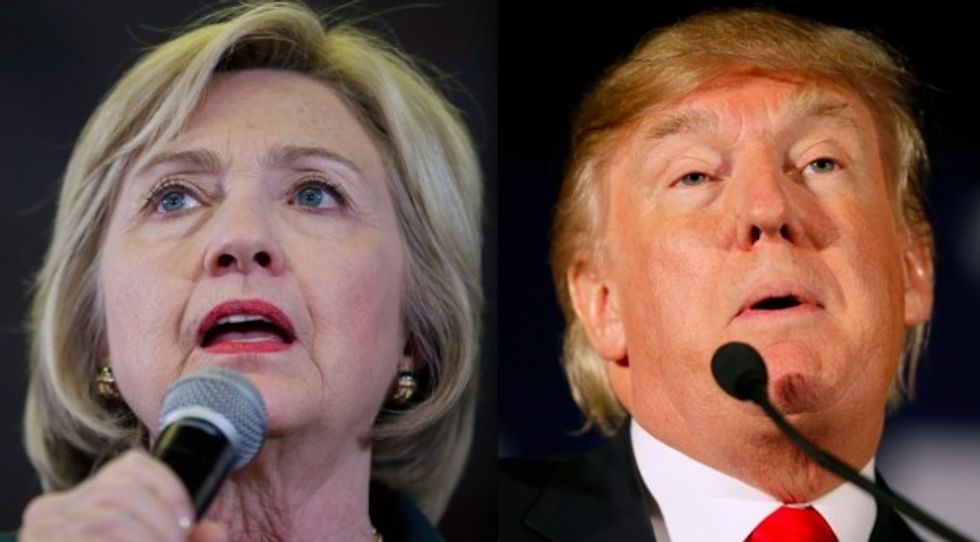 From left, Democratic presidential candidate Hillary Clinton and Republican candidate Donald Trump. (AP Photos)
Rasmussen characterizes their findings as consistent with an October poll showing largely the same results.
Seven percent of likely Republican voters told Rasmussen that they would prefer Democratic former secretary of state Clinton to Republican businessman Trump, while 12 percent of Democrats prefer Trump to Clinton.
Trump leads Clinton among male voters, 41 percent to 31 percent, while Clinton leads Trump with women, 42 percent to 31 percent.
Clinton leads Trump with voters under 40, and Trump leads Clinton among senior citizens.
—