In a battle between the Clintons and billionaire businessman Donald Trump, former Arkansas Gov. Mike Huckabee believes Trump would be victorious.
Speaking on "Fox and Friends" Monday morning, Huckabee told the Fox panel that he believes Trump was sincere when he vowed to begin attacking former president Bill Clinton, and that those attacks wouldn't hurt Trump's campaign.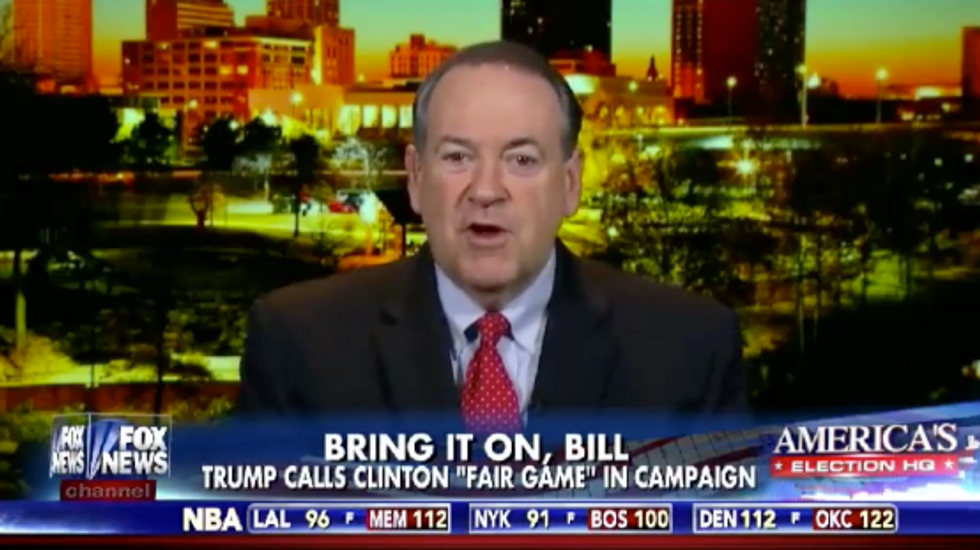 Image via Twitter/FoxAndFriends
"Look, nothing's backfired on Donald Trump yet. I'd put my money on him," Huckabee said. "Frankly, he's played the whole media game like a kid on Christmas morning with a toy drum."
The Clintons are somewhat "vulnerable" to Trump's attacks, Huckabee said. "He's beaten the heck out of them, and I honestly don't think that this is going to hurt Donald Trump," he added.
But when asked whether the former president represents a "liability" for Clinton's White House aspirations due to scandals in his past, Huckabee said Bill is more likely an asset, noting that the former president is still very popular.
"Frankly, after seven years with Obama, a lot of Republicans would take Bill Clinton back, warts and all, just because at least, he understood how to govern," Huckabee said.
However, Democratic National Committee Chair Debbie Wasserman Schultz feels differently. On "Meet the Press" on Sunday, Wasserman Schultz said that if Trump continues to attack Bill Clinton, it will only lead to the demise of his presidential campaign.
—