Rep. Jason Chaffetz (R-Utah) praised Republican presidential frontrunner Donald Trump in an interview this week, telling UtahPolicy.com that he likes a lot of what the billionaire has said during his campaign.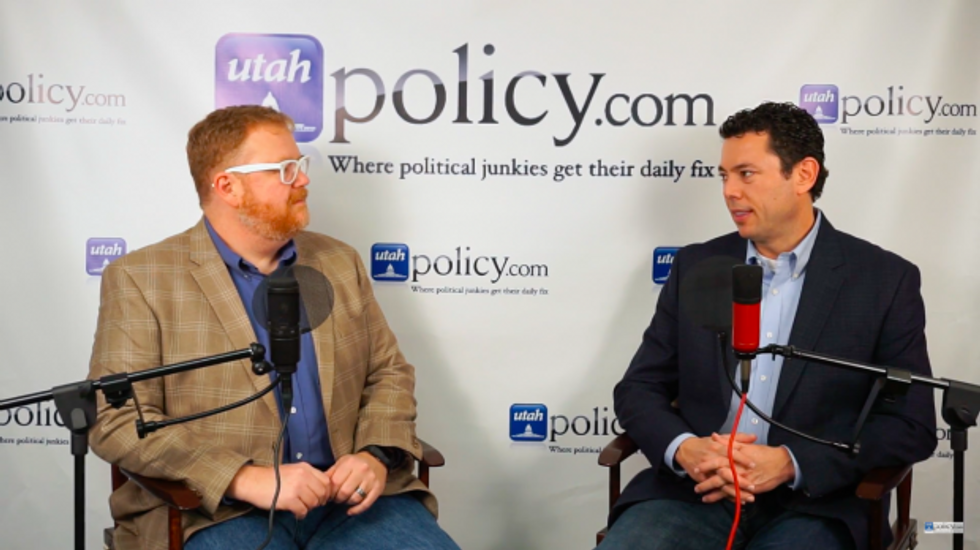 Rep. Jason Chaffetz (right) discusses Donald Trump's candidacy with Bryan Schott (left). (Image source: YouTube screenshot)
"I like a lot of what he's saying," Chaffetz told UtahPolicy.com managing editor Bryan Schott. But the congressman tempered his compliments by distancing himself from Trump's comments regarding a "religious litmus test on entering the country," referring to the businessman's proposed ban on all Muslim immigrants.
"I happen to think that's way over the top, uncalled for, I totally disagree with that," Chaffetz said. "But, there are a lot of things that he says that I actually really do like, that I think other people should be talking about and how he does it is his own style. There's only one Donald — that's for sure."
Chaffetz, who chairs the House Committee on Oversight and Government Reform, voiced opposition earlier this month to Trump's plan to ban Muslims from entering the U.S. by visiting an Islamic mosque in Utah, calling the front-runner's proposal "intolerance that should not stand."
Those comments aside, Trump's campaign seemed to be resonating with Chaffetz.
"If he wins, he wins," Chaffetz told Schott earlier in the interview. "I think people are attracted to him for a variety of reasons — they want results, they want somebody who's going to blow through the red tape, who actually will get things done in Washington, D.C. And to that extent, more power to him."
Chaffetz warned, though, that there is a "sobering moment" coming in January, saying he is unsure if voters will actually vote for Trump when they start going to the polls in the early states. Chaffetz told Schott that former House Speaker Newt Gingrich (R-Ga.) was leading in the polls at this time in 2011, but that it was Gov. Mitt Romney (R-Mass.) who ended up with the GOP nomination.
"There's a sobering moment when we turn in to the new year and people start to think about whether or not they'll actually check that box, and you know, it starts in Iowa before we know it, and then off to New Hampshire and it's a whole different game after that," Chaffetz said.
Watch the interview below:
—