Jeb Bush on Monday challenged Republican presidential frontrunner Donald Trump to a one-on-one debate.
Speaking at a forum in West Palm Beach, Fla., Bush said that he is willing to take on the real estate tycoon "any time, any place."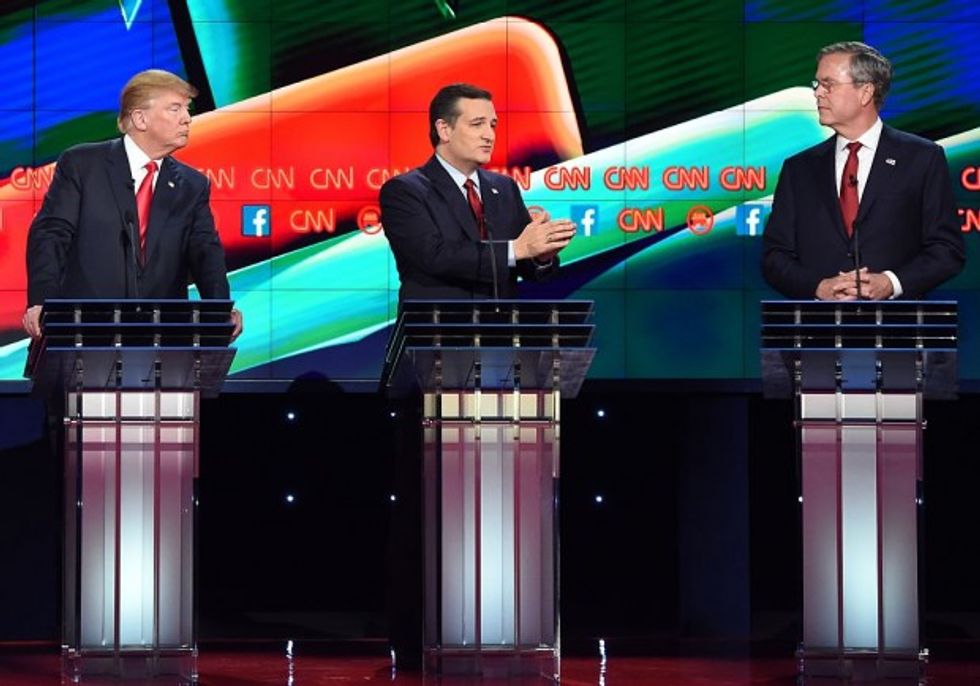 Donald Trump, Ted Cruz, and Jeb Bush at the last Republican debate, December 15, 2015. (Getty Images/ROBYN BECK/AFP)
When asked by the forum's moderator what he would say to Trump should he walk into the room at that very moment, the former Florida governor issued his challenge.
"Donald, I'll take you on one-on-one in the debate," he said boldly, according to the New York Times. "Any time, any place. You name it, I'll do it."
Unable to gain traction in his campaign since the summer, Bush has been very critical of Trump. That criticism lead to a tense exchange in the last Republican debate, after Bush labeled Trump a "chaos candidate."
Trump, however, has had his own insults for the former Florida governor, often times mocking him over his low polling numbers and his "low energy" personality.
But unless the two candidates come together in the same room soon, it doesn't appear there will be a Bush-Trump showdown until the next Republican debate. That debate is slated to take place on January 14 in Charleston, S.C., just two weeks before the Iowa caucuses.
Watch Bush's challenge below:
—