© 2023 Blaze Media LLC. All rights reserved.
Frustrated Dad Writes Letter to Macy's CEO After Discovering Store Had No Changing Stations — and He Gets Results
What this man did next is sure to warrant the praise of father's everywhere.
Holiday shopping doesn't rank very high on the list of favorite dad activities, and the addition of a crying infant with a dirty diaper certainly lessens the appeal even more.
Earlier this month, Anthony Dew brought his 4-month-old son Jeremiah along to do some Christmas errands, only to find that the Maryland Macy's store where they were shopping didn't have a changing table he could use.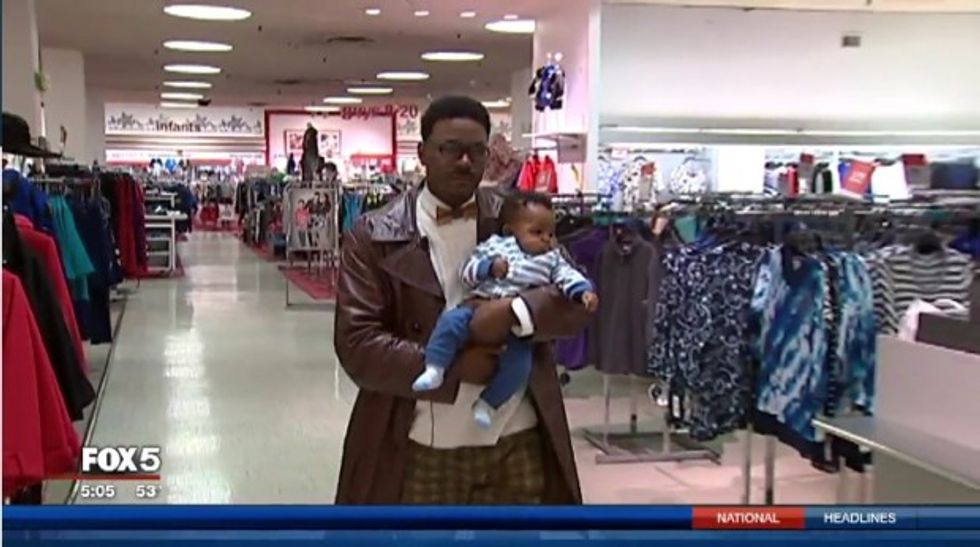 Image source: WTTG-TV
"Every father knows you've got to change the diaper before you get started," Dew told WTTG-TV.
Dew and Jeremiah, who had been fussing since they arrived, searched every floor of the Prince George's County Macy's to no avail.
"I couldn't find a changing table," Dew said. "At that point, I was stuck because unless the baby is content, you've got to have a dry diaper."
After notifying management of his situation, Dew got frustrated and left the store empty-handed.
What he did next is sure to warrant the praise of fathers everywhere.
As soon as Dew arrived at his home, he wrote to Macy's CEO Terry Lundgren on behalf of all the fathers who have zero access to changing stations.
"I wrote the letter to the chairman," he said. "I like to take it to the top."
And it worked. The manager of the Macy's Dew visited was away on business when his bosses notified him of the situation.
"I immediately got out of the event and made a couple of phone calls," store manager Ufuoma Onosakponome said. "We put a team together and started work almost immediately."
Now, not only does the store have a new changing station but also a renovated men's room where dads can change their children's diapers.
Dew had another message for businesses to keep in mind: "Babies matter and changing stations, too."
Dew reached out to WTTG after Macy's responded in order to give the company its due praise. The store also gave Dew a gift card as an apology for inconveniencing him.
Watch the video here:
(H/T: WTTG)
Want to leave a tip?
We answer to you. Help keep our content free of advertisers and big tech censorship by leaving a tip today.
more stories
Sign up for the Blaze newsletter
By signing up, you agree to our
Privacy Policy
and
Terms of Use
, and agree to receive content that may sometimes include advertisements. You may opt out at any time.