Republican presidential candidate Florida Sen. Marco Rubio said on "Fox and Friends" Wednesday morning that the issue of government surveillance on overseas allies, specifically Israel, "might be worse" than reported.
Rubio was referring to a Wall Street Journal report released Tuesday that said the United States government continued to spy and capture intelligence information of allied nations after the administration promised in 2013 to halt such efforts. The spying included the communications between Israeli Prime Minister Benjamin Netanyahu and his aides during the Iranian nuclear deal talks.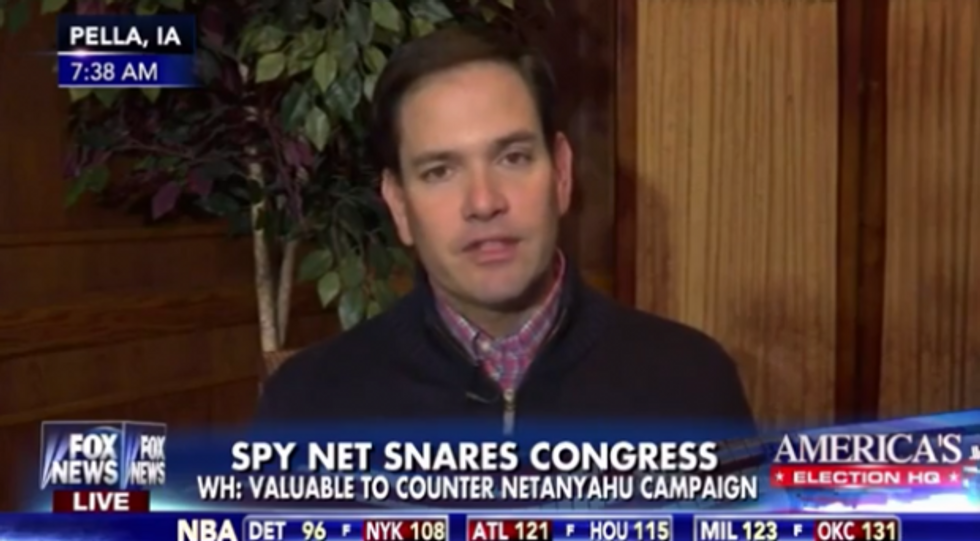 Image source: Youtube
"[People have] a right to be concerned about the fact that while some leaders around the world are no longer being targeted, one of our strongest allies in the Middle East, Israel, is," Rubio, a member of the Senate Intelligence Committee, said.
"I actually think it might be worse than what some people might think, but this is an issue that we'll keep a close eye on," he continued.
According to Rubio, the issue is "one of those complicated issues when it comes to intelligence matters," as he cautioned how he spoke publicly of the issue.
"We have to be very careful about how we discuss it," he said, "especially since there's a press report that I don't think gets the entire story."
However, the Republican presidential candidate stressed that he is not "defending" President Barack Obama or his administration.
Watch Rubio's interview in its entirety below. The relevant part begins around 5:30: