The New York Times editorial board said in an editorial Tuesday that Tamir Rice, the 12 year-old African-American boy who was shot to death by police last year, would still be alive "had he been a white 12-year-old playing with a toy gun in just about any middle-class neighborhood in the country."
According to the Times, Rice had the misfortune of living "a highly circumscribed life, hemmed in by forces that deny your humanity and conspire to kill you."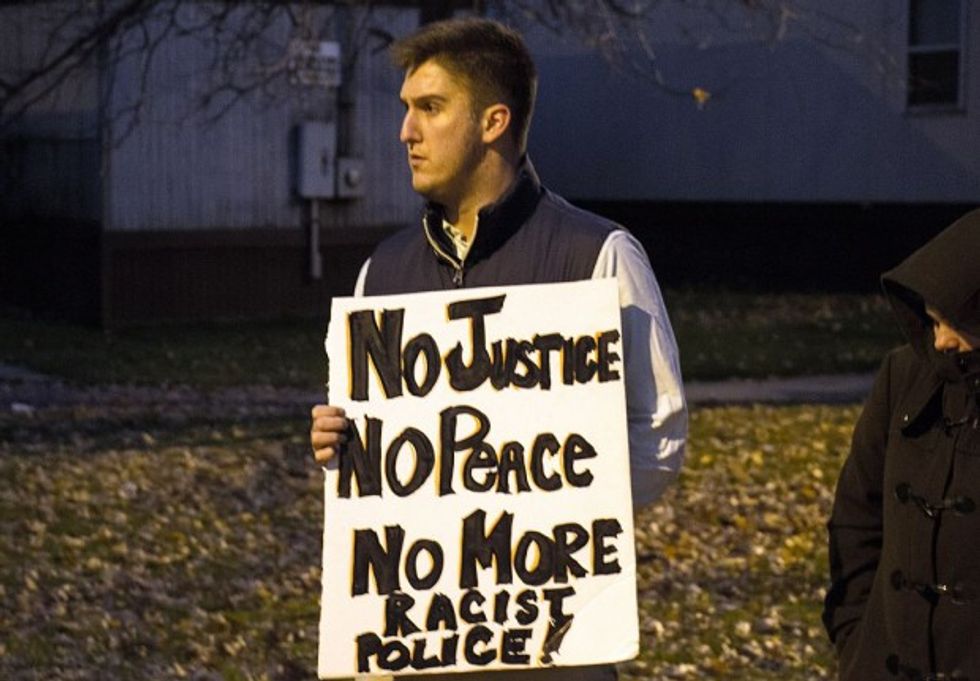 A man displays a sign during a rally at Cudell Commons Park in Cleveland, Ohio, Nov. 24, 2014, where Tamir Rice, a 12-year-old boy was shot by police. (Getty Images/Jordan Gonzalez/AFP)
The editorial comes in response to Monday's announcement that a grand jury declined to indict the officer at the center of the controversy, Cleveland police officer Timothy Loehmann, after hearing months of testimony.
"It reflects an utter disregard for the lives of the city's black residents," the Times said of the decision, adding that they thought Loehmann was unfit to be a police officer.
But the Times didn't just criticize Loehmann for what they believed to be his shortcomings as an officer, they also rebuked the police department as a whole, saying the department has a "well-documented reputation for wanton violence and for shooting at people who posed no threat to the police or others."
More from the editorial:
The Police Department's disregard for life was fully evident in the way the officers behaved after shooting Tamir.

In addition to portraying the killing as a result of a tragic misunderstanding, prosecutors have also suggested the officer's decision to kill Tamir was shaped by the fact that the surrounding neighborhood had a history of violence and that the boy appeared to be older than 12 because he was big for his age.
"These arguments sidestep the history of violent, discriminatory police actions that led up to this boy's death," the Times concluded. "They also have the reprehensible effect of shifting the responsibility for this death onto the shoulders of this very young victim."
—
Follow the author of this story on Twitter and Facebook:
[facebook //www.facebook.com/plugins/like.php?href=