The United States Air Force Academy will allow football players to keep praying before games.
The USAFA issued its response after a letter penned by the Military Religious Freedom Foundation claimed that the prayers were illegal and unconstitutional.
Earlier this month, MRFF President and Air Force Academy alumnus Mikey Weinstein told the Air Force Times that Christian cadets kneeling on the field to pray is a "disgrace" and a "putrid example of fundamentalist Christian supremacy, triumphalism and exhibitionism."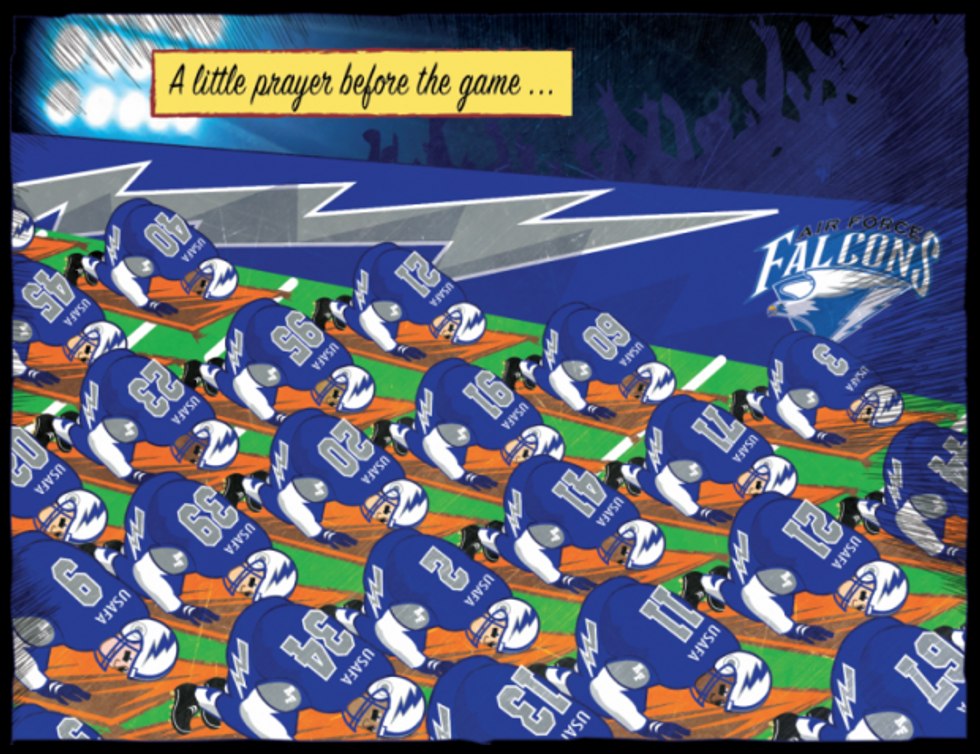 Image source: Military Religious Freedom Foundation
On December 28 the MRFF published a cartoon depicting USAFA cadets as Muslims kneeling on prayer mats while facing east. MRFF explained the cartoon was meant to create speculation as to whether prayer would be allowed for Muslim cadets, rather than Christian ones.
The Academy reviewed and investigated the complaint, but concluded that players are free to follow their own religious beliefs.
"The United States Air Force Academy will continue to reaffirm to cadets that all Airmen are free to practice the religion of their choice or subscribe to no religious belief at all," the USAFA said in a statement. "The players may confidently practice their own beliefs without pressure to participate in the practices of others."
The MRFF released a statement Thursday expressing its discontent.
"By allowing public prayer by the football players in Air Force uniform, command is officially endorsing one religion--Christianity."