Pope Francis delivered an end-of-year message to the faithful in St. Peter's Basilica on New Year's Eve.
"How meaningful it is to be gathered together to give praise to the Lord at the end of the year!" Francis said, according to Vatican Radio.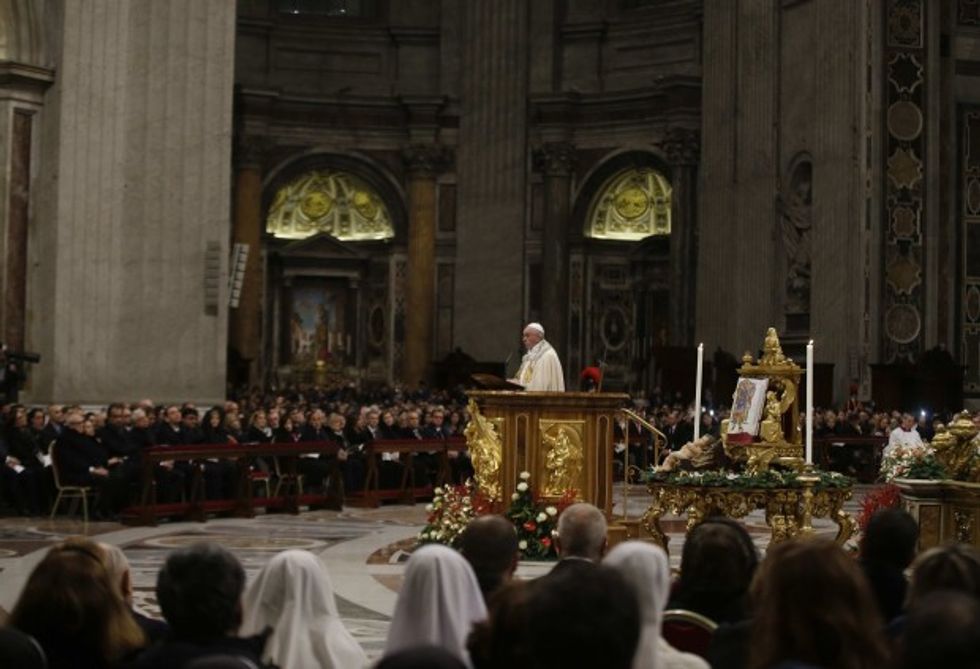 Pope Francis delivers his speech as he celebrates a New Year's Eve vespers mass in St. Peter's Basilica at the Vatican Dec. 31, 2015. (AP Photo/Gregorio Borgia)
"The Church on so many occasions feels the joy and the duty of lifting up her song to God with these words of praise," he continued.
Francis encouraged the faithful not to be discouraged by the bad news of the year, such as the numbers of people who are homeless, hungry and victims of violence. He encouraged the faithful to seek to help those who are suffering and not to allow acts of kindness, love and charity to be obscured by "the arrogance of evil."
"The good always wins," Francis said, "even if at times it can appear weak and hidden."
He remarked that the final words of a hymn sung during the service — "Let Thy mercy, O Lord, be upon us, for we have hoped in Thee" — have a special meaning during the Catholic Church's Jubilee Year of Mercy.
"Our eyes need to focus on the particular signs God has given us, to see His merciful love first-hand," Francis said.
The remarks were delivered as Francis celebrated First Vespers for the Solemnity of Mary the Mother of God, a feast day the Catholic Church observes on New Year's Day.