Following the deadly attacks in Paris and San Bernardino, many called on tech entrepreneurs and social media networks to ramp up their work to curb hateful and violent speech online. In a policy update released this week, Twitter is working to do just that.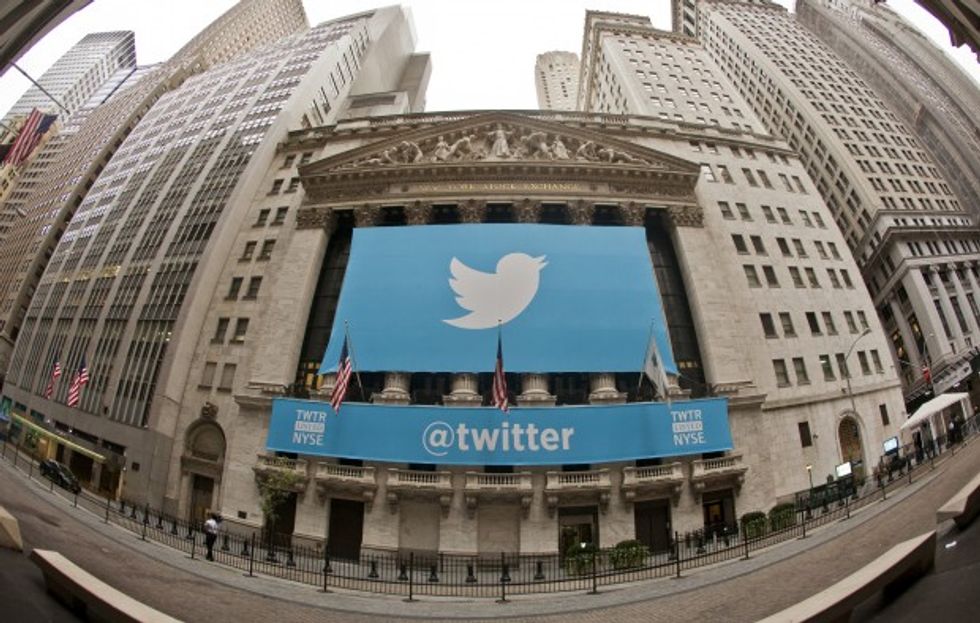 A Twitter banner draped over the New York Stock Exchange for Twitter's IPO. (Image via Flickr)
A study conducted by the New York Times found that the Islamic State is "astonishingly successful" at spreading their message and recruiting followers on social media, especially Twitter, even amid the network's past efforts to thwart the activity.
"The updated language emphasizes that Twitter will not tolerate behavior intended to harass, intimidate, or use fear to silence another user's voice," the new policy reads. "As always, we embrace and encourage diverse opinions and beliefs — but we will continue to take action on accounts that cross the line into abuse."
In past policy memos, Twitter has said it would block the promotion of terrorism and violence, but the network had no regulations in place that would allow it to ban people who tweeted "hateful" posts.
The updated language seems to focus both on discrimination and "hate speech" and the shutting down of terrorist networks' accounts.
"You may not promote violence against or directly attack or threaten other people on the basis of race, ethnicity, national origin, sexual orientation, gender, gender identity, religious affiliation, age, disability or disease," the new Twitter rules read.
Additionally, Twitter will now ban users from creating multiple accounts in an effort to avoid suspension — a tactic which has been used effectively by terrorists seeking to remain on the social media site.
Over the past year, both Facebook and Twitter have worked to adjust their policies in order to quash terrorist activity online. However, along with working to clamp down on the promotion of violence and terrorism, these networks also want to avoid censorship.
"Keeping users safe requires a comprehensive and balanced approach where everyone plays a role," Megan Cristina, director of trust and safety at Twitter, wrote. "We will continue to build on these initiatives to empower our users and ensure that Twitter remains a platform for people to express themselves."
(H/T: CNN Money)