UPDATE, [6:15 ET]: Rochester, NY cancels its New Year's Eve fireworks after terror arrest announced today.
--
Police arrested a would-be Islamic State attacker in New York Wednesday for allegedly planning an armed terror operation at a bar in Rochester on New Year's Eve, officials said Thursday.
FBI officials had been tracking 25-year-old Emanuel Lutchman of Rochester for months prior to his arrest. Lutchman has been charged with attempting to provide material support and resources to the Islamic State, WNBC-TV reported.
Before his arrest, Lutchman had made a video, recorded on his cell phone by an informant. In the video, which he intended to release after the planned attack, he claimed responsibility for the plot and swore allegiance to the Islamic State, according to the complaint.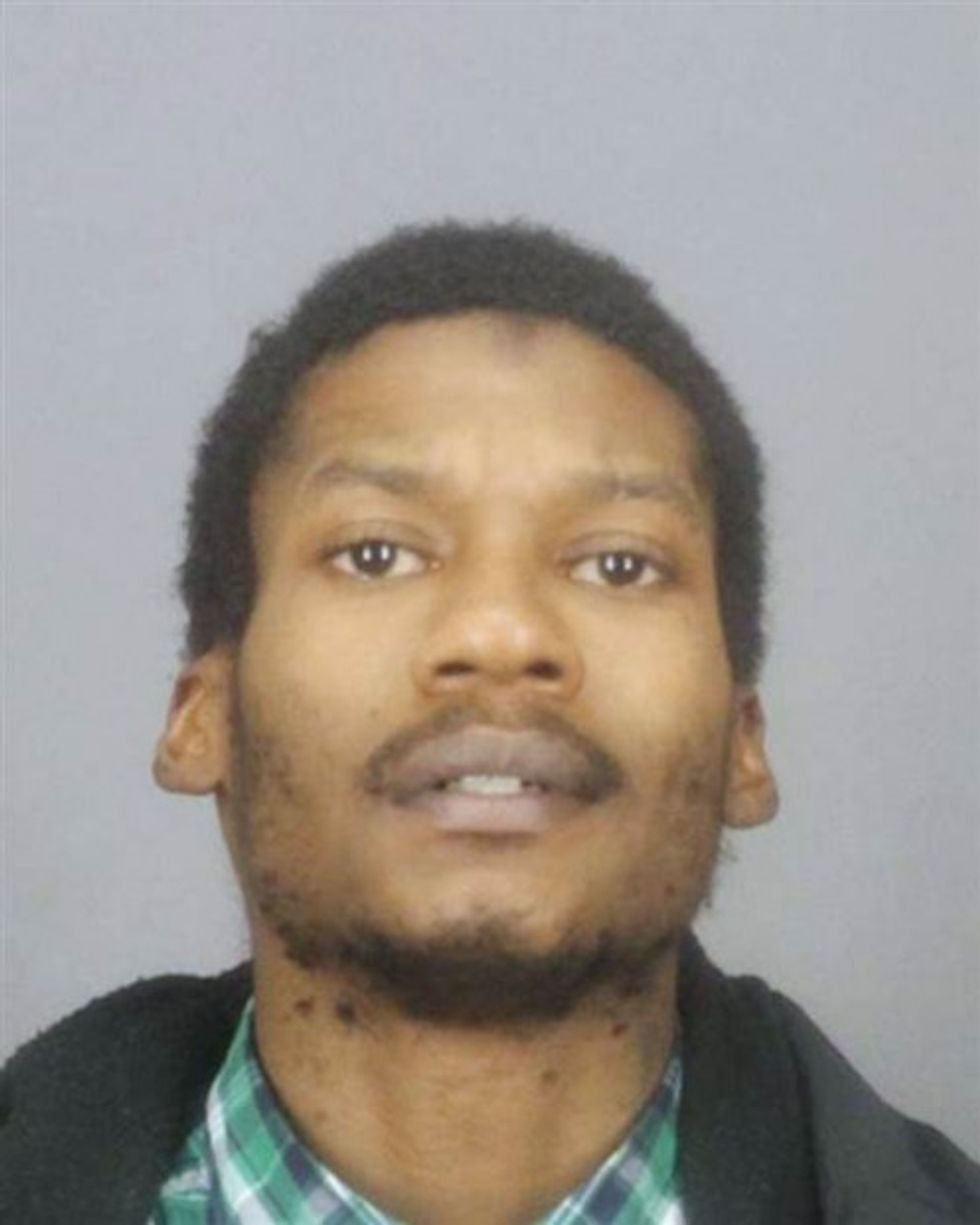 Emanuel Lutchman, 25, charged with attempting to aid the Islamic State group, is seen in this booking photo taken Dec. 31 in Monroe County, New York. (Monroe County Sheriff)
The criminal complaint against Lutchman, a self-professed Muslim convert, states that he began corresponding with FBI informants in November after voicing his support for the terrorist group and expressing an interest to join the fight in Syria.
Lutchman allegedly told an informant that he had been in touch with an Islamic State member in Syria late this month and that he expressed his "hatred for everything in America" and his intention to join the group in Syria, according to the complaint.
When Lutchman shared his contempt for the United States and was ready to "give everything up" to join militants abroad, the overseas individual reportedly said to him, "For now do what you can over there."
Since Lutchman had no official connection to the group, the alleged Islamic State member told him he would have to prove himself. According to court documents, the individual told Lutchman that if he could pull off an attack on New Year's Eve and kill as many Americans as possible, then he would help him get to Syria.
Lutchman met with another FBI informant he assumed was an Islamic State sympathizer Monday and said he wanted to target a club or bar so he could sneak a bomb inside the facility, according to court documents.
The complaint said that Lutchman also suggested they kidnap a couple of people and kill them. He proposed that they wear masks to avoid being identified by police.
Sometime during the meeting, they drove by a bar in Rochester that Lutchman identified as a potential target, according to court documents. Lutchman said he didn't have money for weaponry, but suggested they use knives for the attack. According to the criminal complaint, he told the informant that he knew someone with a machete and that his wife had a dagger.
Lutchman called another one of his "brothers," another FBI informant, Tuesday and said they needed to get gloves, masks and zip ties for a potential kidnapping, court documents revealed.
That same day, Lutchman and an informant went to a Walmart store in Rochester to buy supplies for the attack, according to the complaint. The two bought ski masks, zip ties, knives, a machete, duct tape, ammonia and latex gloves.
Afterwards, Lutchman allegedly said, "It's going to get real after this. It's just you, me and the Lord. We gotta do this, we gotta do this precise. If we grab somebody, they can't live. They may identify the vehicle. They can't live."
Lutchman has a criminal history that dates back to 2006, including a New York state conviction for second-degree robbery.
Lutchman allegedly became radicalized while serving time in Attica, Gov. Andrew Cuomo said.
"According to the complaint, as part of Emanuel Lutchman's attempt to provide material support to ISIL, he planned to kill innocent civilians on New Year's Eve in the name of the terrorist organization," New York Assistant Attorney General John Carlin said in a statement. "Thankfully, law enforcement was able to intervene and thwart Lutchman's deadly plans."
Steven Slawinski, Lutchman's federal defender, declined to comment on the charges, WNBC reported.
Cuomo applauded federal agents for the arrest and urged all citizens to remain aware, adding that New York is no stranger "to these types of incidents."
"The arrest of Emanuel Lutchman is an important reminder of the new normal of global terrorism" Cuomo said in a statement. "Today law enforcement did their job well — but the challenges we face have never been greater, and it is incumbent on every citizen to be diligent and responsible."
Authorities have said there is no credible terror threat to New York City or other locales throughout the tri-state area this New Year's Eve, WNBC reported. Thousands of uniformed and undercover officers will stationed in and near Times Square during the time leading up to the ball drop to ensure the safety of the 1 million people expected to attend the Thursday evening celebration.
(H/T: WNBC)