A Kansas-based meat distribution company has reportedly fired around 190 workers from one of its packaging and distribution plants, weeks after more than 200 workers walked off of the job over a prayer dispute, the Denver Post reported.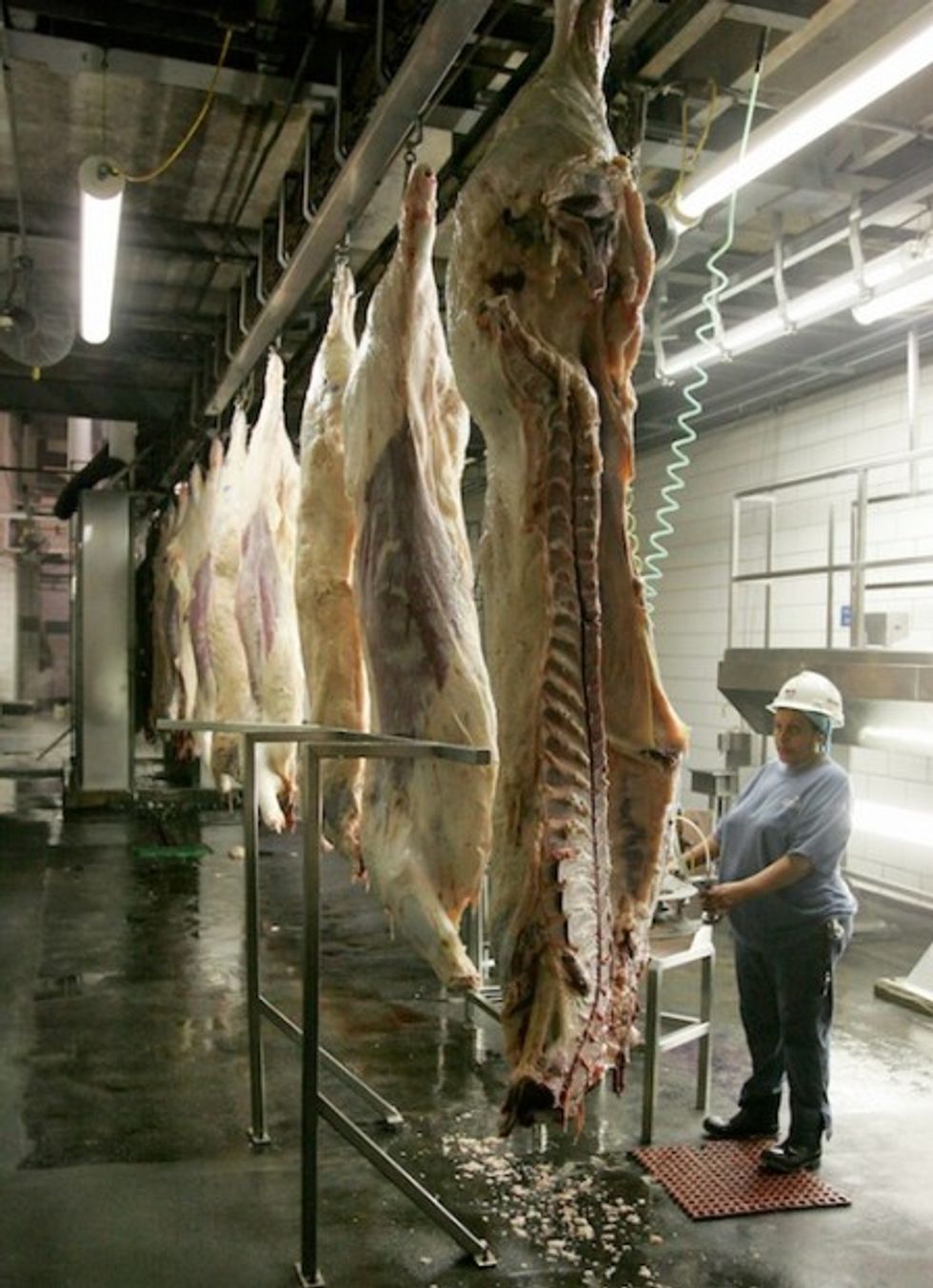 The Cargill meat packing plant in Schuyler, Neb., Tuesday, July 8, 2008.(AP Photo/Nati Harnik)
Cargill Meat Solutions made the decision to fire employees — individuals who are mostly Muslim immigrants from Somalia — after the workers refused to show up to work at a Fort Morgan, Colorado, plant last month, with the workers claiming that they were denied breaks to pray.
They felt as though a long-held prayer policy had changed, so they decided not to show up to work for three days following a Dec. 18 dispute, which led to their firing, according to KSAX-TV.
The Council on American-Islamic Relations, a Muslim civil rights group, has stepped in to try and help the workers get their jobs back, pledging to seek other legal options if such a remedy cannot be attained.
"Some employees missed their prayer that day," Jaylani Hussein, executive director of CAIR's Minnesota office, told KSAX-TV. "They wanted to talk to management and they were told to go home if they wanted to pray."
Hussein continued, "We believe Cargill is a great organization and that they have a long history of employing Muslims. Unfortunately, in this plant, it seem there have been some abuse and some sort of policy that has been applied in so many different ways."
Cargill responded to the firing by saying that the company "makes every reasonable attempt to provide religious accommodation to all employees based on our ability to do so without disruption to our beef processing business at Fort Morgan."
But Cargill said that accommodations cannot be guaranteed every day and are dependent on a number of factors that can change from day-to-day, with a statement from the company going on to say that reflection rooms are available for prayer and that no policies have changed.
"In the Fort Morgan plant, a reflection area for use by all employees to pray was established in April 2009, and is available during work shifts based on our ability to adequately staff a given work area," Cargill said in a separate statement KUSA-TV.
But Hussein told the Denver Post that, while Muslim workers have traditionally been permitted to pray for five to 10 minute blocks, the workers were recently told that they should go home if they want to pray — a purported act that he said led to the strike.
CAIR will be speaking with Cargill next week in an effort to try and help the workers get their jobs back, and secure their requested prayer time.
Cargill said that multiple attempts had already been made to resolve the situation with the employees — including meetings with plant management and union representatives.
(H/T: Denver Post)
--
Follow the author of this story on Twitter and Facebook: