Republican presidential candidates Texas Sen. Ted Cruz and Florida Sen. Marco Rubio both said Monday that they support a peaceful end to the stand-off at the rural wildlife refuge in Oregon, which is currently being occupied by armed protesters.
During a Monday campaign stop in Boone, Iowa, Cruz told reporters that while every American has a constitutional right to protest, they don't have a right to violence or to threaten violence.
"There is no right to engage in violence against other Americans, and it is our hope and prayer that that situation resolves itself peaceably sooner rather than later," the Texas Republican said, according to the Washington Post.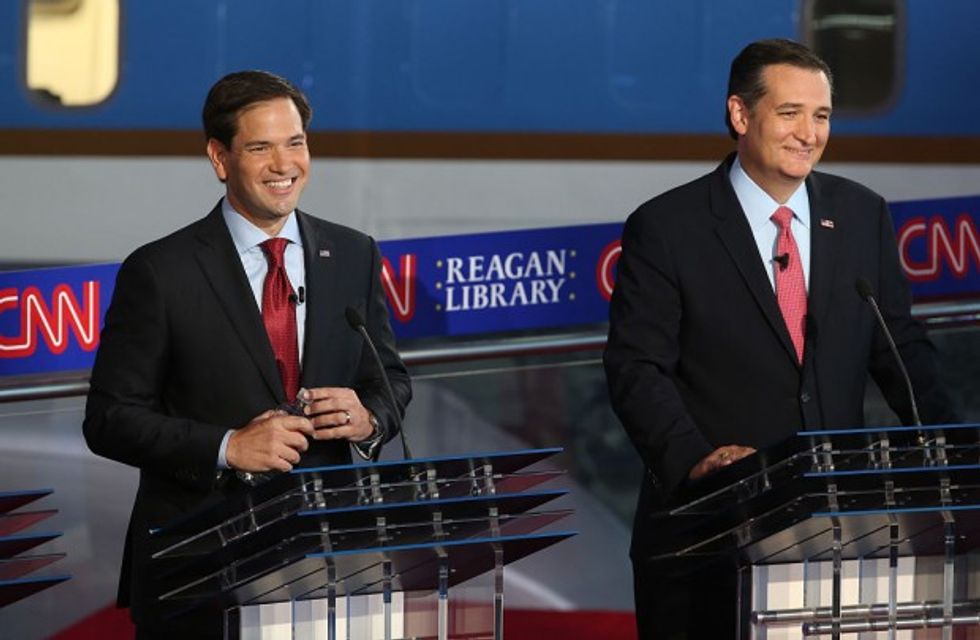 Republican Sens. Marco Rubio (Fla.), left, and Ted Cruz (Texas) take part in the presidential debates at the Reagan Library Sept. 16. (Getty Images/Justin Sullivan)
Rubio made similar statements during a radio interview in Iowa Monday morning. Speaking on KBUR radio, the Florida senator said the occupiers "can't be lawless."
"You can't be lawless. We live in a republic," Rubio said. "There are ways to change the laws of this country and the policies. If we get frustrated with it, that's why we have elections. That's why we have people we can hold accountable."
"And I agree that there is too much federal control over land, especially out in the western part of the United States," he added. "There are states, for example, like Nevada that are dominated by the federal government in terms of land holding, and we should fix it, but no one should be doing it in a way that's outside the law. We are a nation of laws, we should follow those laws and they should be respected."
The group of activists have occupied the building since Saturday. They are protesting the case of two Oregon ranchers who were convicted of arson in 2012. They each served their time, but a federal judge recently ruled that their time served was not long enough and ordered both back to prison for four more years.
—
Follow the author of this story on Twitter and Facebook:
[facebook //www.facebook.com/plugins/like.php?href=